I couldn't wait to start my week vacation in Cabo San Lucas. It has always seemed like such a great place and I was excited to see if it lived up to the billing. Obviously it is most well known for its amazing waters, so that is what I wanted to see first!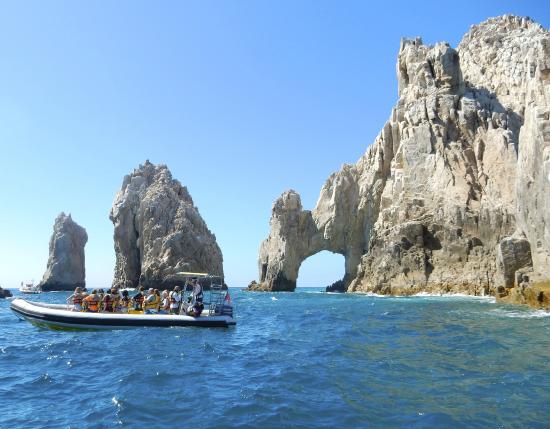 After I arrived at the resort where I would be based for the week, I got a long night rest so I would be ready for a great first full day in Mexico. I figured there would be no better way to start off my week then diving right in (literally) with some snorkeling. After some exhaustive research, I decided Cabo Sailing Ocean Adventures was the right fit for me, as they offered a sailing package that would take me out on the water, show me all the sites, take me snorkeling, feed me lunch, and even offered beverages of all types, and all included in one very affordable price! They took on all the work and all I had to do was have a great time!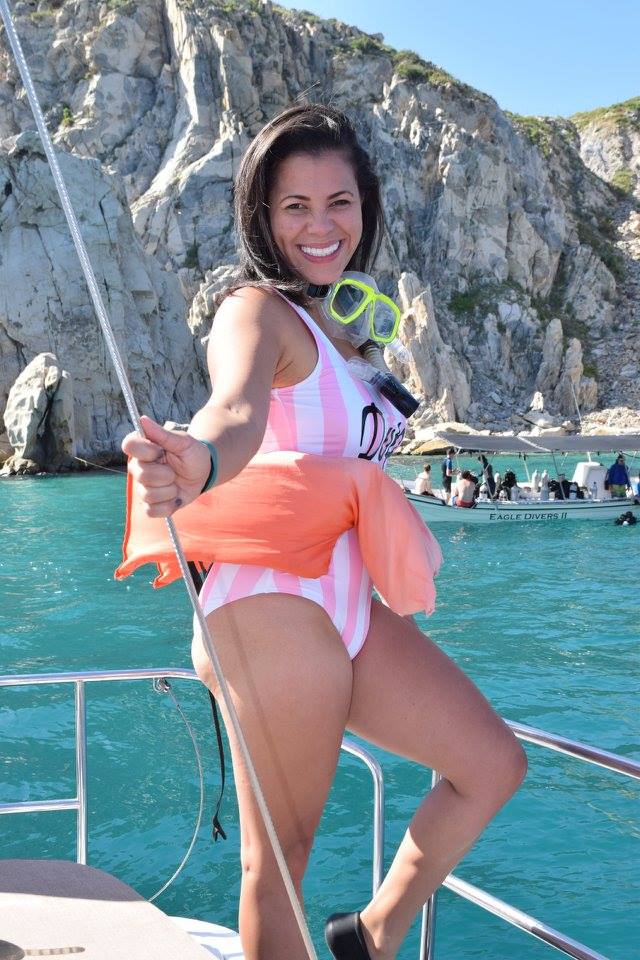 We met at our boat where the 2 person crew as well as 6 other passengers were ready to set sail. This is what I particularly enjoyed about this set up. The boat is small, and they only take out a maximum of 14 passengers, but it is usually less than that, as was the case with our cruise. Eliel was to serve as the captain and Pedro was the assistant. Both of them were super friendly, and welcomed us aboard for what promised to be a great afternoon of fun.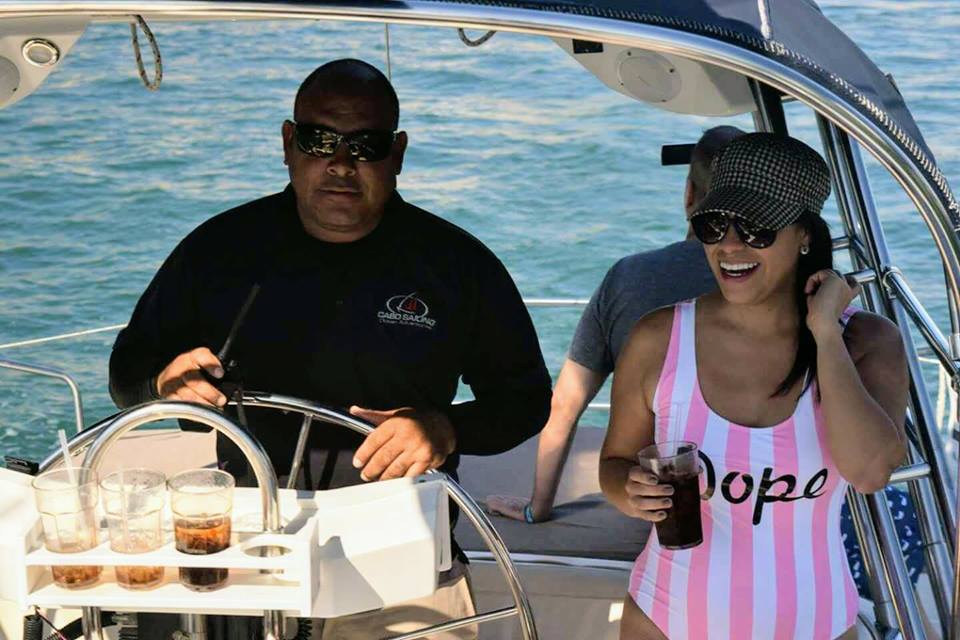 We slowly made our way out of the marina and I just marveled at how beautiful it all was. The boats that are docked here are incredible, and I am sure many of them cost more than some very nice homes. If I had a boat like one of these, this would be a great place to put it. Our sailboat was awesome as well. We were able to sit in the back, or lay down in the front and just soak up the sun while enjoying an amazing view while Eliel filled us in with what we were seeing as we headed out into the deeper waters.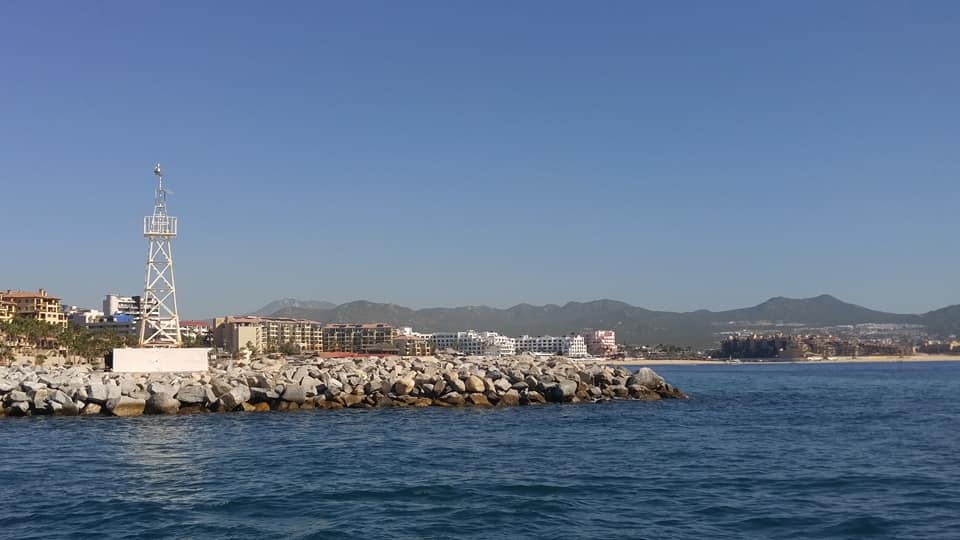 As we got going, Pedro offered us a drink of our choosing as well as some chips, salsa and guacamole. I wanted to start slow so I just got a Coke. The snack was great and a cold drink is always nice. Now I was ready to start my vacation!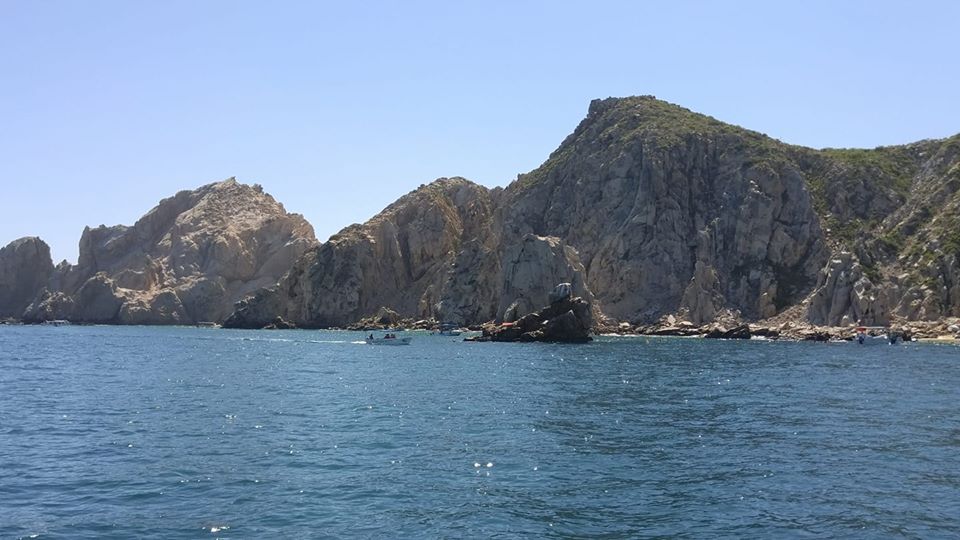 We arrived at our first destination where we would be doing the snorkeling. This is a special area that is described as a "natural aquarium" because of the the abundance and variety of fish that can be seen there. I would say it is roughly the size of a football field. Because of how special this area is, fishing in it is strictly prohibited. Obviously the Mexican government wants to preserve such a fantastic natural resource.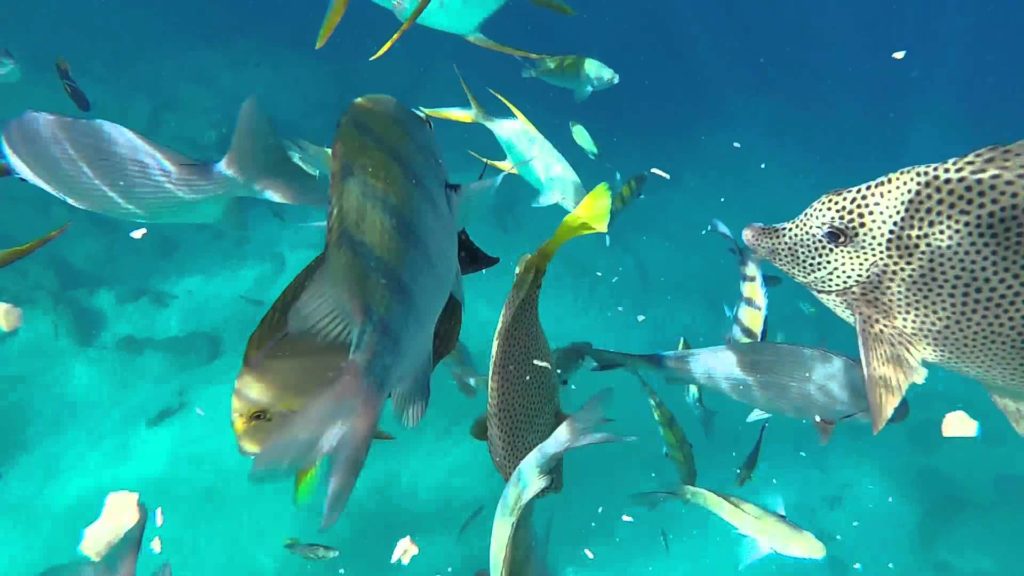 Eliel stopped the boat and gave us a safety briefing, as well as explained to us what we needed to know about how to snorkel. I admit I was nervous, but he made me feel comfortable and before I knew it, I was jumping in the water. I made my way over to the designated area and was ready to let the adventure begin.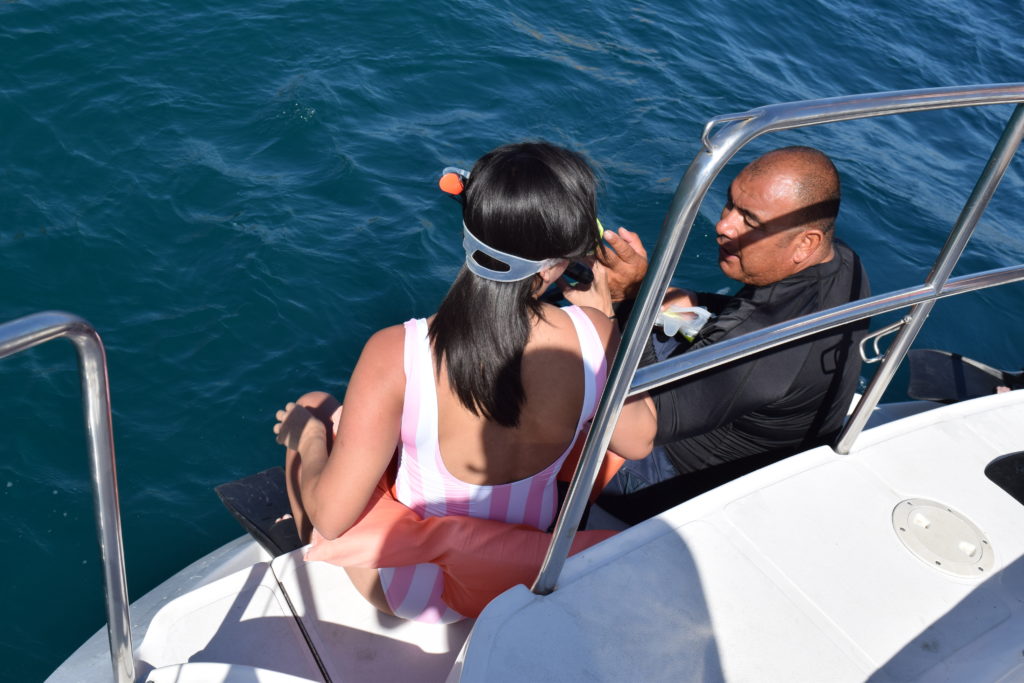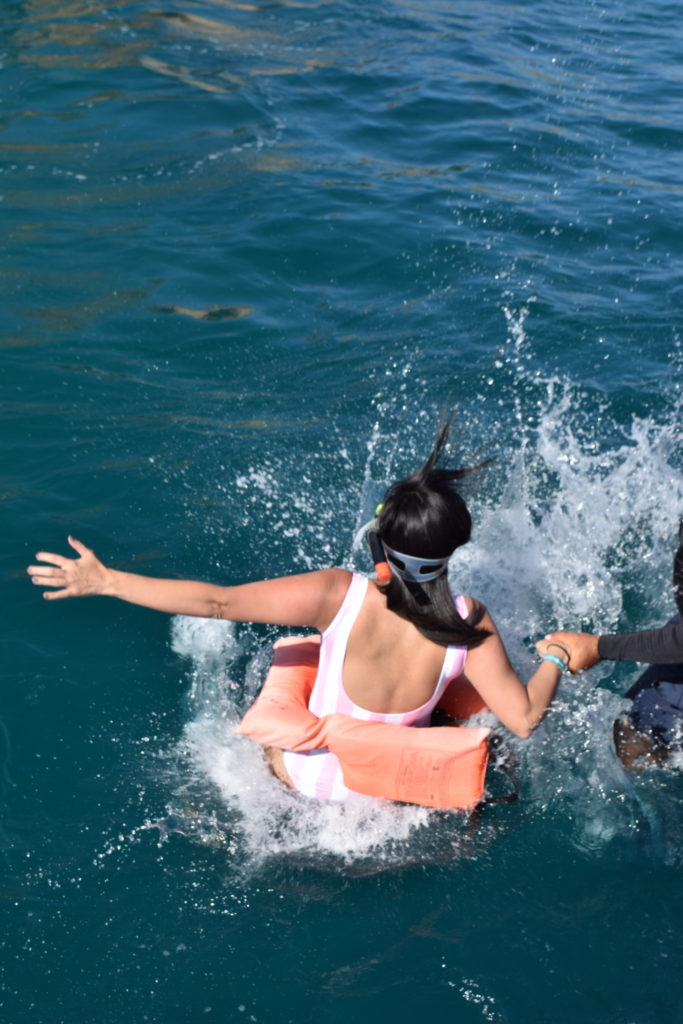 As soon as I put my face into the water I was amazed by what I was seeing. There were literally thousands of fish ranging in sizes from maybe in inch, all the way up to a basketball. And the best part was they were so close I could almost touch them! I didn't want to scare them so I just relaxed my arms, and they would swim to within a couple of inches of me. They were all so brightly colored and just seemed to be as relaxed as could be. I guess they knew they were in a protected area.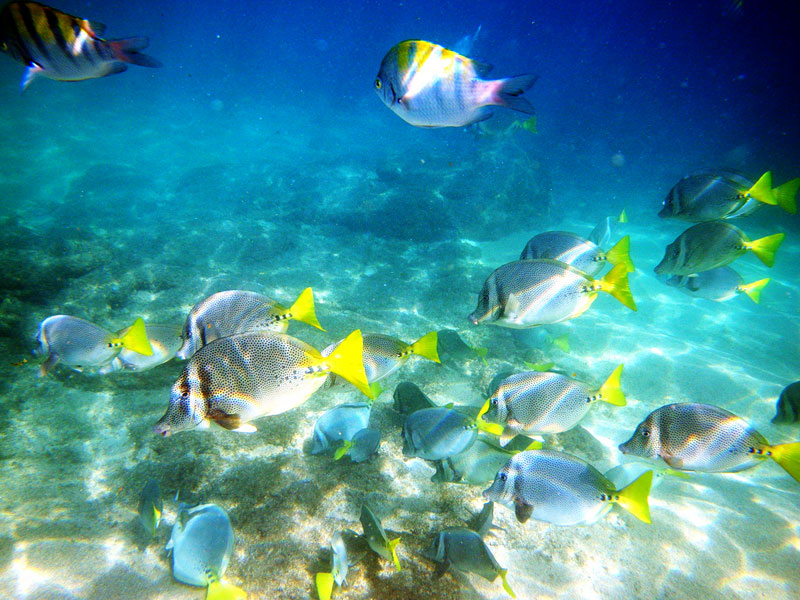 We spent almost an hour floating around and looking at all the various fish. I still can't believe I was able to get so close. At first I was nervous, but by the end I could have stayed there all day. It truly was an experience I will never forget.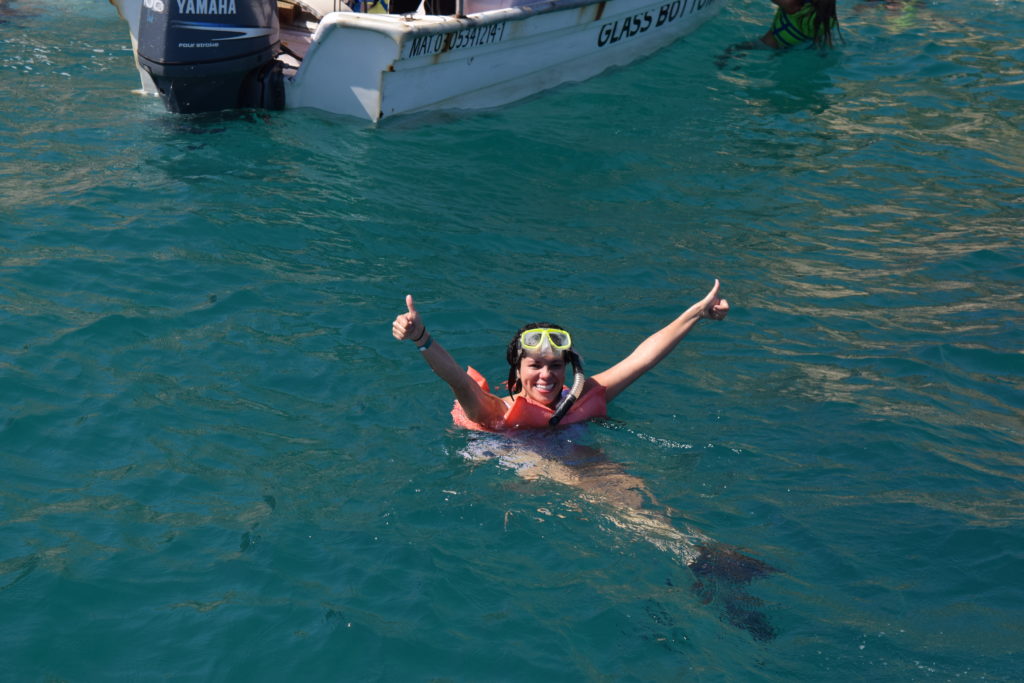 We made our way back onto the boat to continue on our trip. We went up front again where we had a nice conversation with a couple from Arizona. We had some mixed drinks and beers and talked about the things we had done, or were going to do while in Cabo. It was time for lunch now, and Pedro brought out some nice ham and cheese sandwiches, along with some super fresh pineapple. It was a nice light lunch that fit just perfectly with what we were doing.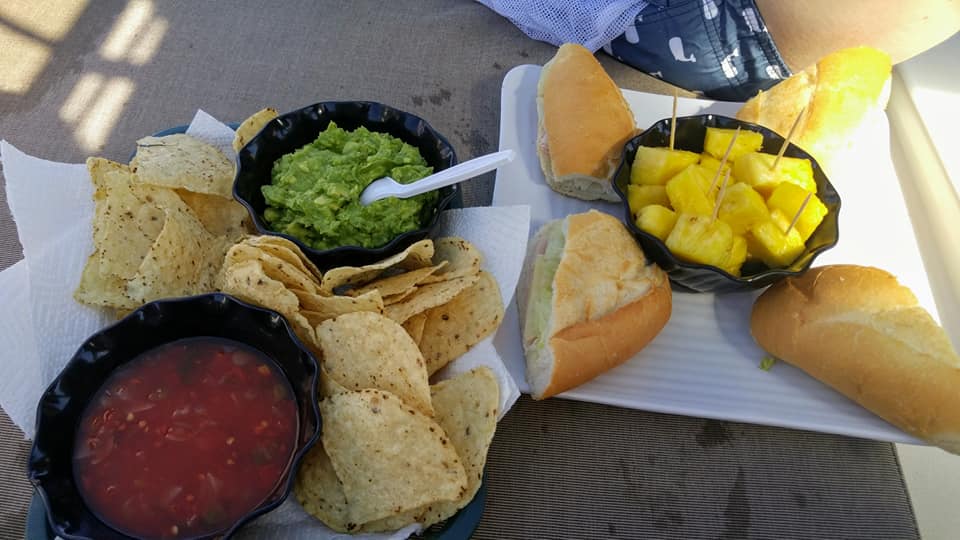 As we went along, we started to see the more famous sites Cabo is known for. We passed "Lover's Beach," as well as Neptune's Finger and Land's End. But of course the main attraction is the Arch. I have seen it in thousands of pictures, but it is so much more beautiful in person. We stayed around that area for awhile to take pictures and soak it all in. It truly is breathtaking.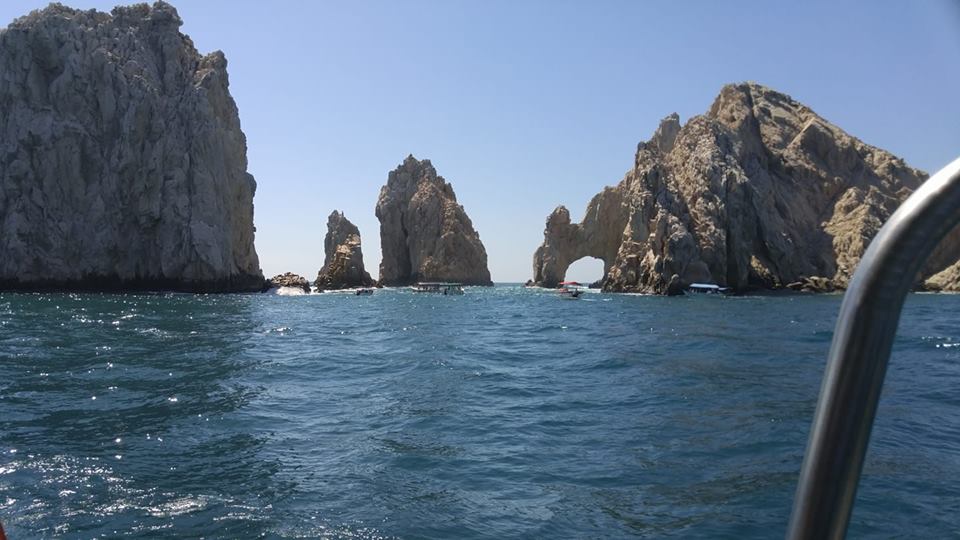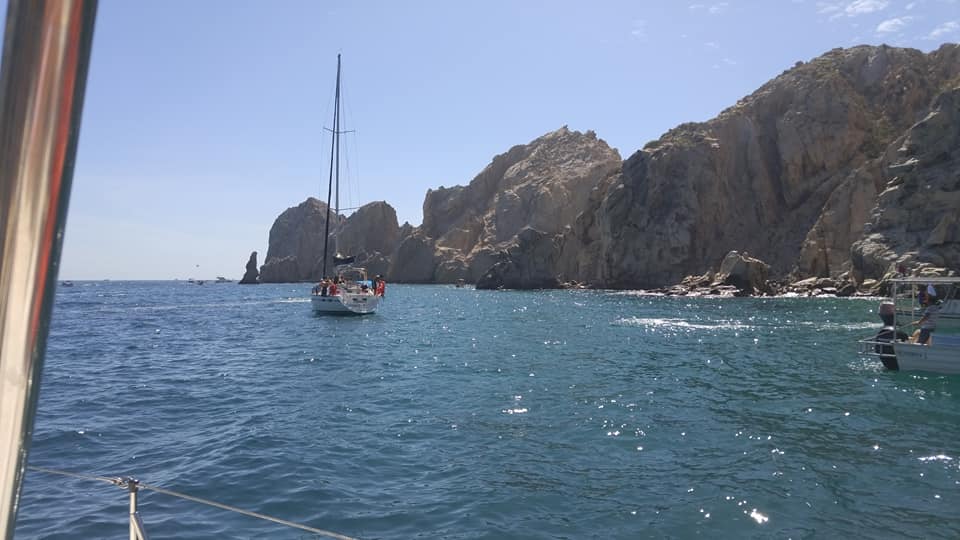 Finally, we started to head out to open sea. One last cute thing to see was a rock formation at Land's End that had a sea lion on it. The captain said his name is Pancho, and we found out during our time in Cabo that he is a bit of a celebrity. Everybody knows Pancho.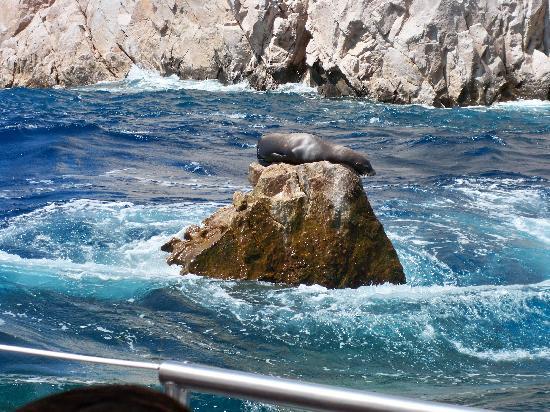 We rounded the rocks and saw "Divorce Beach," which is just on the Pacific side of Lover's Beach. Fortunately, this beach was empty.
Once fully in the open water, Eliel opened the sails so we could experience true sailing instead of using the motor. It was so nice just to enjoy the time on our boat, talk with new friends and have a drink. We also had some great beach music playing as well which added to the atmosphere. It truly was a perfect way to start a vacation.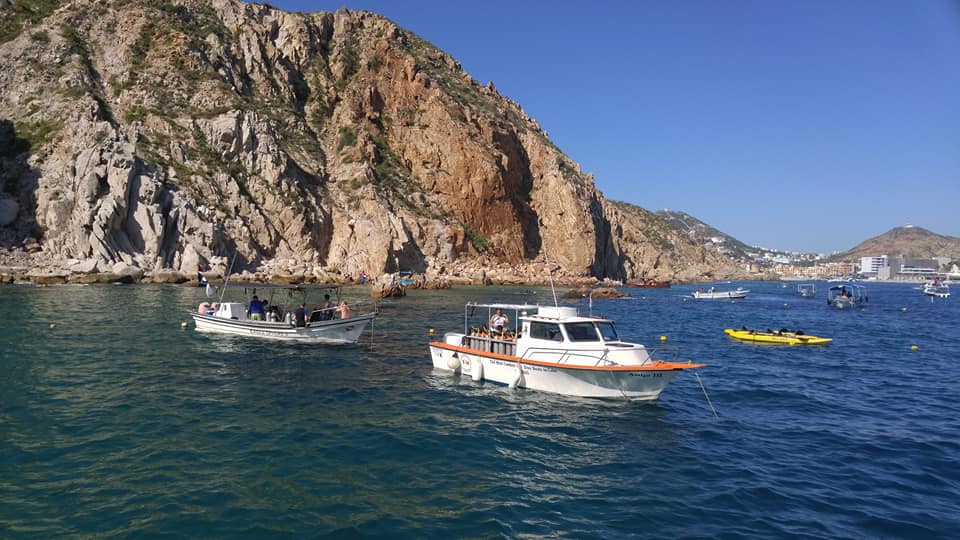 Finally, we started to make our way back to land. We spotted quite a few sea lions not only on the rocks, but in the water as well. In fact, we even saw a few of them right inside the docks as we arrived back. I love to see creatures like this out in the wild.
All good things must come to an end, so this trip had to as well. Once we pulled into the dock, we got off the boat and said goodbye to our new friends, as well as the amazing crew from Cabo Sailing Ocean Adventures. I realize that there are many companies in Cabo that offer tours out to see the arch and the waters around the Baja, but I doubt many can compare to what these guys do. Our crew was amazing and added so much to the overall experience. They seemed like they enjoyed what they were doing as much as we were, and that really enhanced the experience. Many times you almost feel guilty for having fun while others work, but that was definitely not the case here. I was jealous that Eliel gets to have a "job" like this.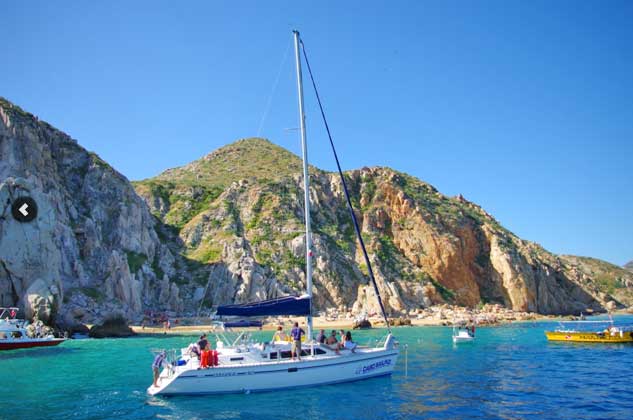 This tour really is almost perfect. From the small size, to the great staff, to the amazing views and activities, it has it all. If you are coming to Cabo, they should be at the top of your list for things to do. You can check them out HERE and see all the different trips they offer, and see which one is right for you.
I also would like to point out another guy who was on board with us. Richie Rosales is an up and coming photographer. He walked around the boat and took some amazing photos for us. He was unobtrusive, but made sure we got some great memories to share. You could tell he really has a passion for his work. But that is not why I would like to single him out for a little recognition.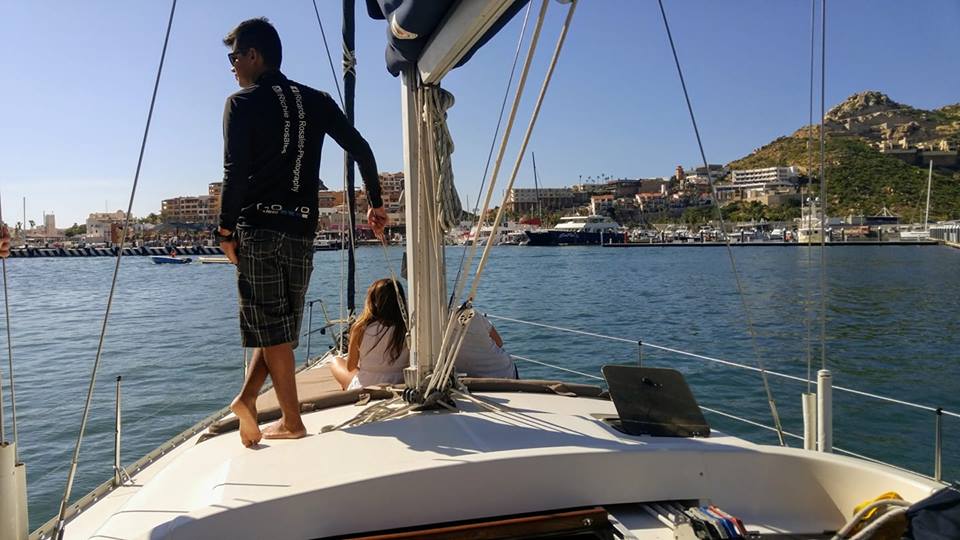 If you go to Cabo San Lucas, you will soon discover there are photographers on basically every type of activity. Most of them do great work, and you quickly notice that it can be quite costly get them. Ritchie, however, made us all cd's, loaded with pictures and simply said we could have them if we wanted them, and could pay only what we felt was fair to receive them. It wasn't a set price. I just thought it was really nice that he wasn't trying to hold people hostage for their photos. So everyone handed him some money, got their cd's and headed on to continue their vacation. If you want, you can follow him on Instagram and see a little bit of what he does. He is @Ritchie.Rosales.
So there you have it! This was my first stop in Los Cabos and it was truly amazing! I can't wait to see what is next.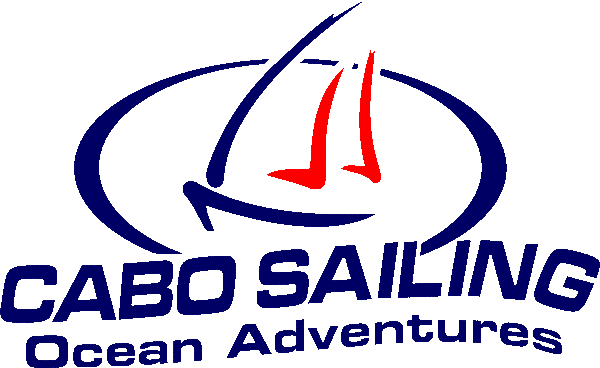 by