(Check out a video at the end of the entire article)
Those of you that have followed my blog over the years know that I love to get out of the city from time to time.  But for some reason, I still had never made it down to one of the most amazing places on earth; the Grand Canyon.  Well all of that changed this past week when the folks at Big Horn Tours invited us to go down to the West Rim with them.
I was excited to go on the tour, and it was even better that it was going to happen on my birthday.  I couldn't think of a better way to spend the day!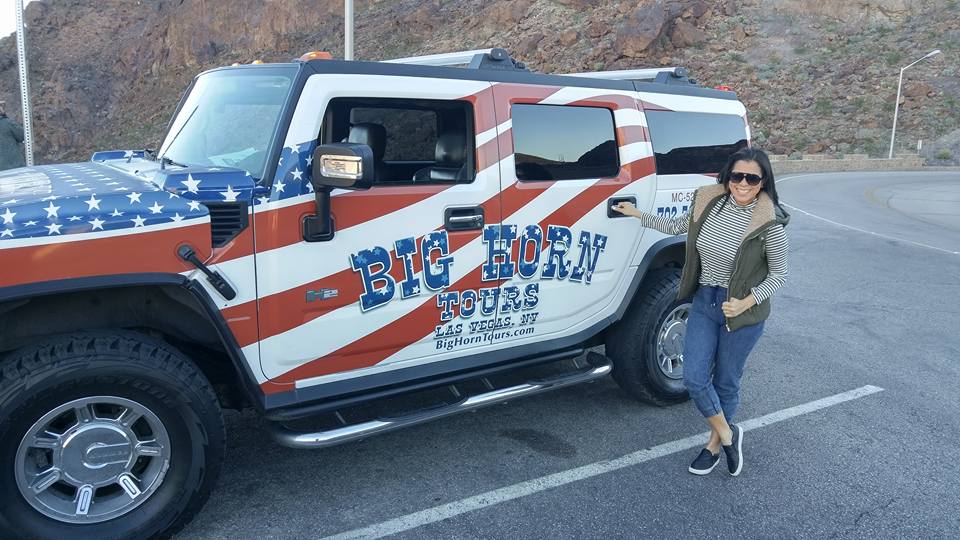 The really unique thing about most of the Big Horn Tours trips is that they take place in red, white and blue painted Hummers!  I don't mind tour buses, but this is a really fun way to take a trip, and it also keeps the groups really small.  Each Hummer can handle up to six guests, plus the driver.
To get to the Grand Canyon early, we had to leave early.  So at 6 a.m we waited outside of the Linq (they can pick you up at your hotel) and right on time we saw the Hummer pull up.  Out of it stepped our tour guide who reminded me a bit of Toby Keith.  He was a big guy with a long coat and cowboy hat on.  His name was Randy and he welcomed us and gave us a quick rundown of what we could expect.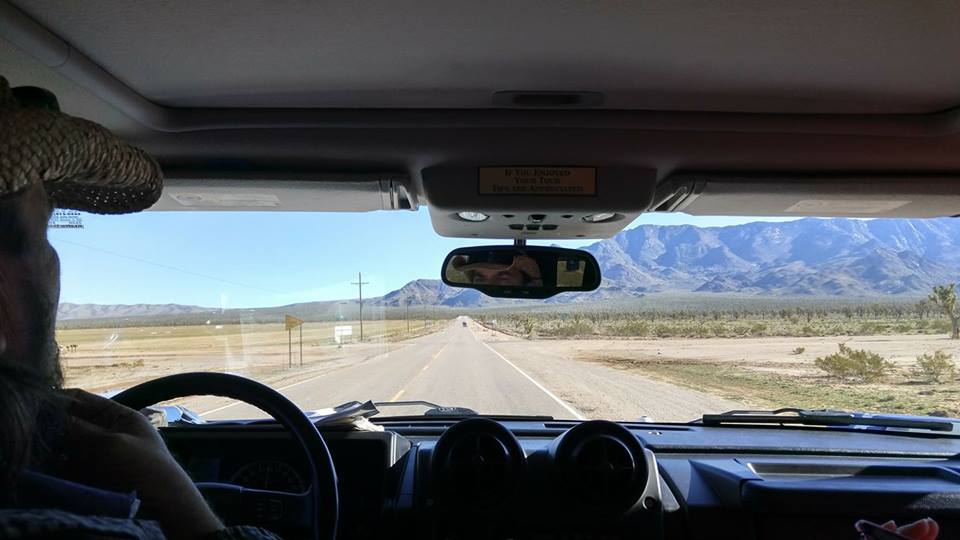 We climbed in along with another lady visiting from Australia and we were on our way!  They even supplied water and snacks to make the trip more comfortable.
As we made our way out of Las Vegas, Randy told us all about the city.  Even though we lived here, a lot of the information was new to us.  And for the other guest, it was a ton of new knowledge for her.  This would be a recurring theme throughout the trip.  No matter where we were, Randy knew all about the local cities, vegetation and wildlife.  It seems like there was nothing about the areas he didn't know about.  This made the drive more fun as we were able to learn so much and notice things we may have never noticed.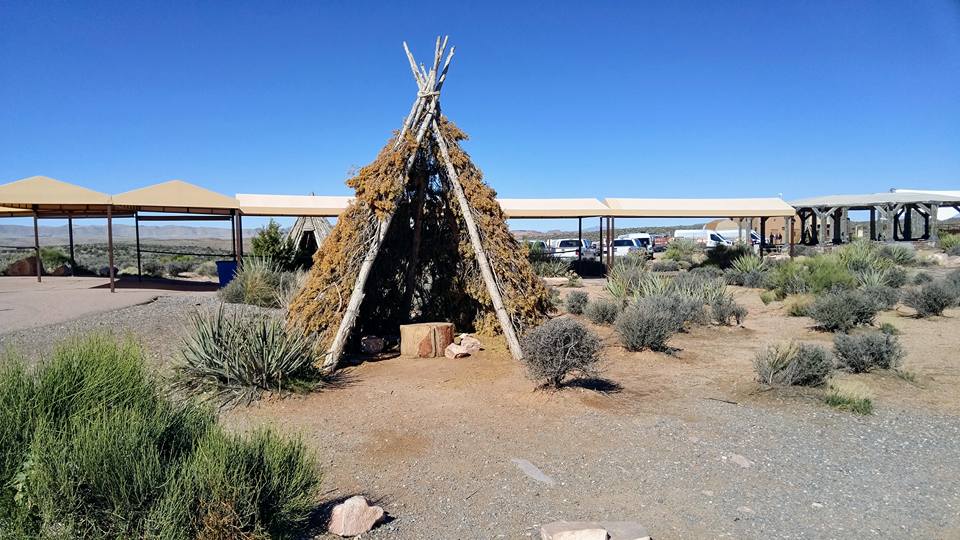 Along the way, we made a brief stop at the Hoover Dam to take some pictures and learn a little about this incredible structure. But of course that was not our destination, so after a brief stop, we continued on.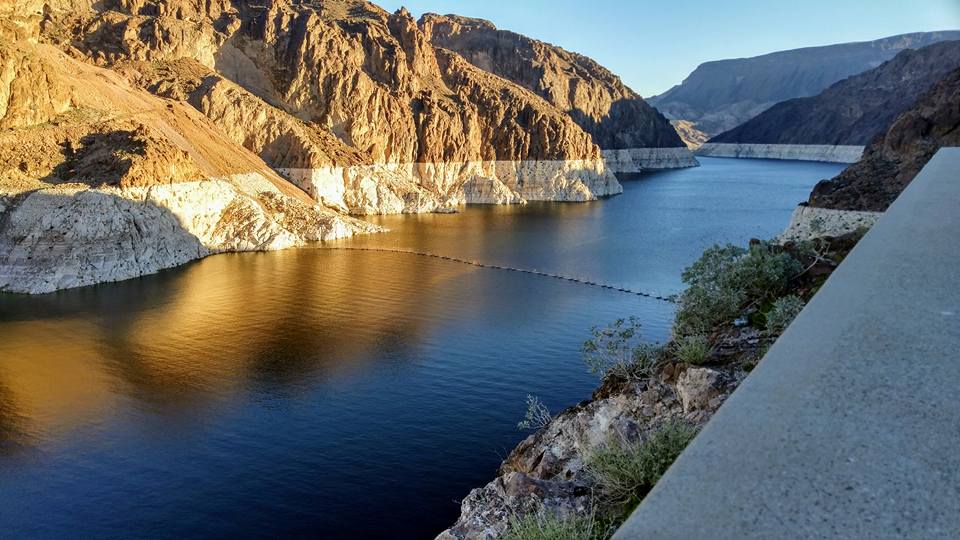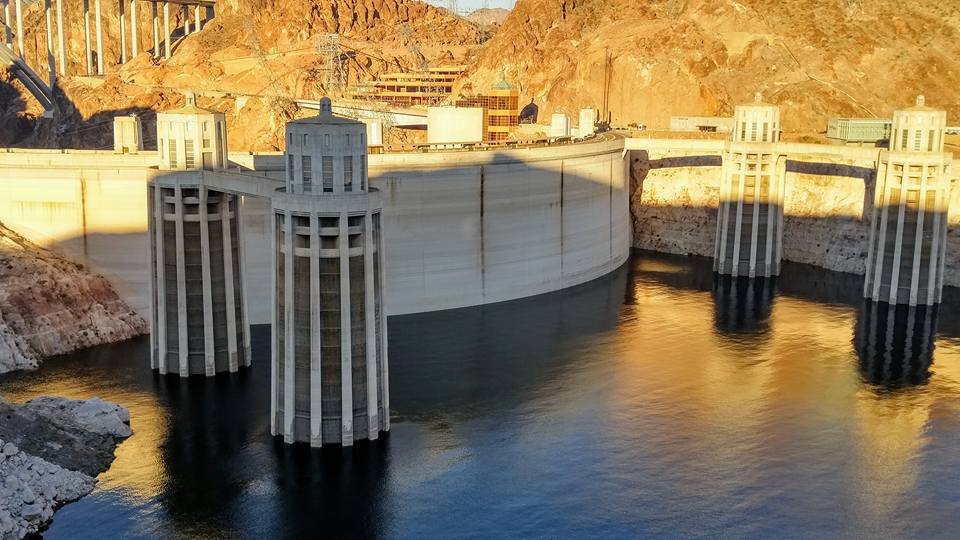 As we neared the canyon, Randy told us all about the Hualapai Indians, who occupied the area we were going to.  He gave us a little background, as well as telling us how important the land is to them.  It's amazing how they consider there land to be so sacred.  That's something the rest of us could learn from.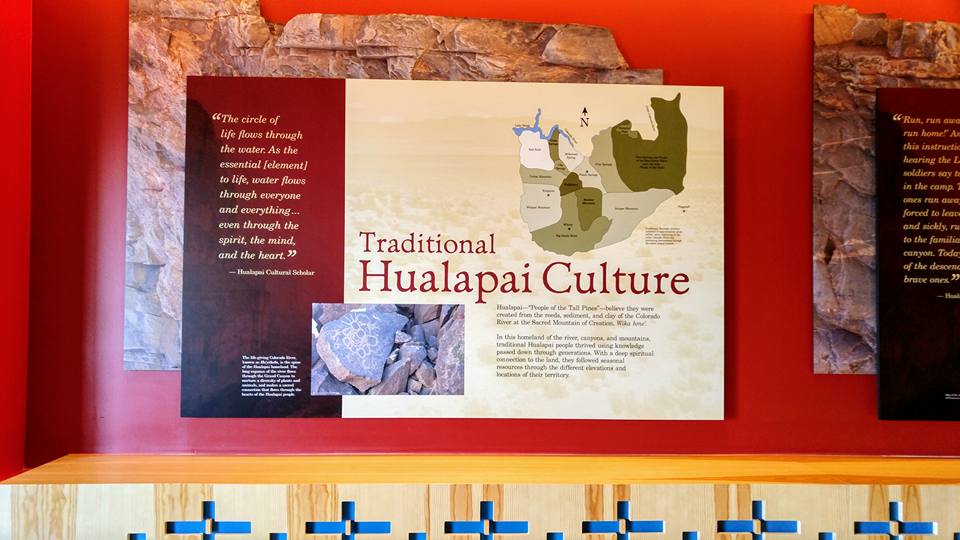 As we arrived we had to park the Hummer and take a shuttle bus for the rest of the short trip.  Big Horn Tours takes care of all the passes and tickets you need to go further and to go on the Skywalk if you choose to.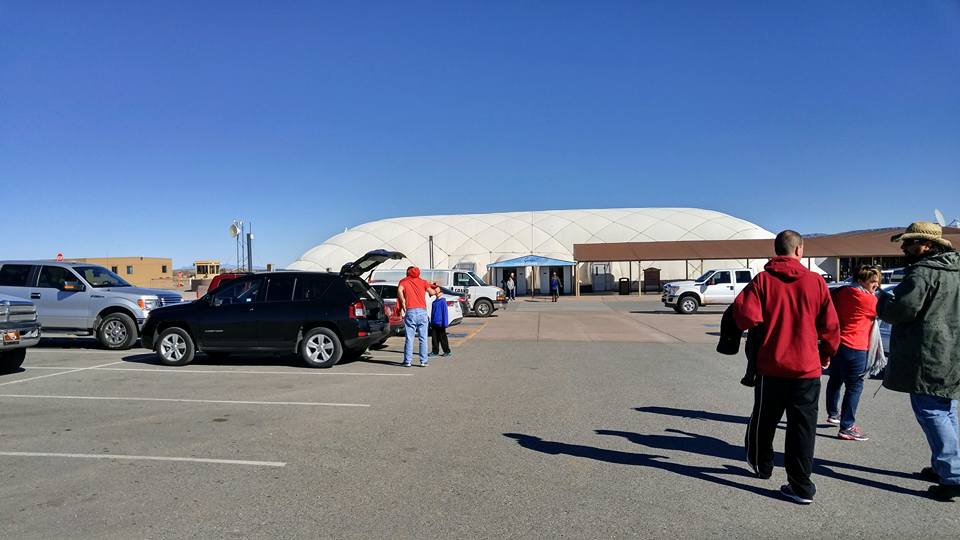 Climbing onto the bus we began our ride.  The views were absolutely amazing.  We even saw several pronghorn sheep along the way!  But the main event was to come, and finally we could see what we had come for.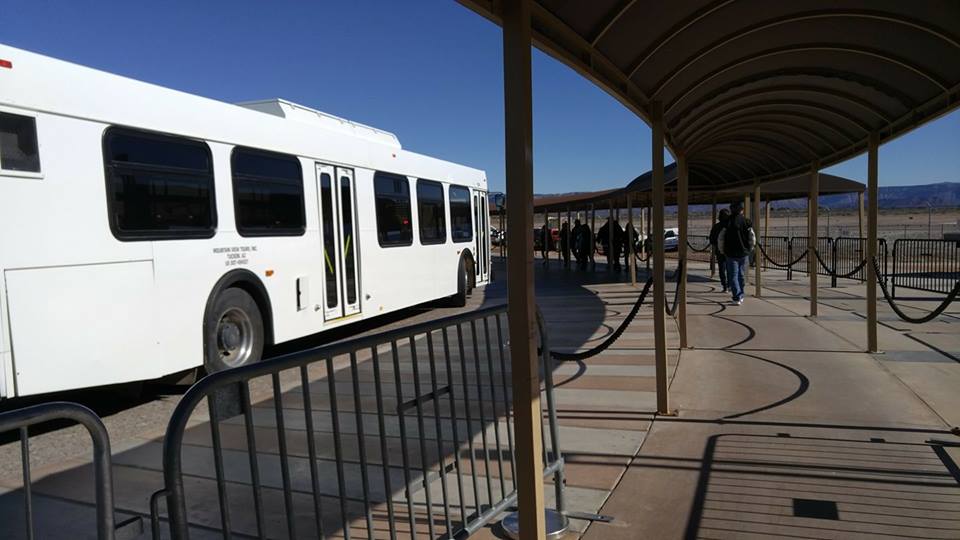 The bus dropped us off at the edge of the canyon.  Pictures don't do this place justice.  It really is something you need to see to believe.  We all just stood and looked for a few minutes, taking it all in.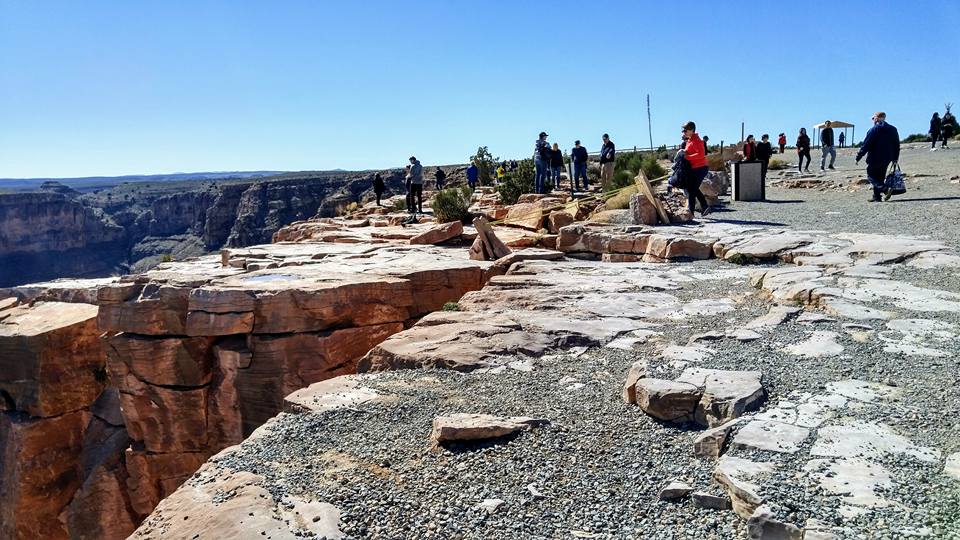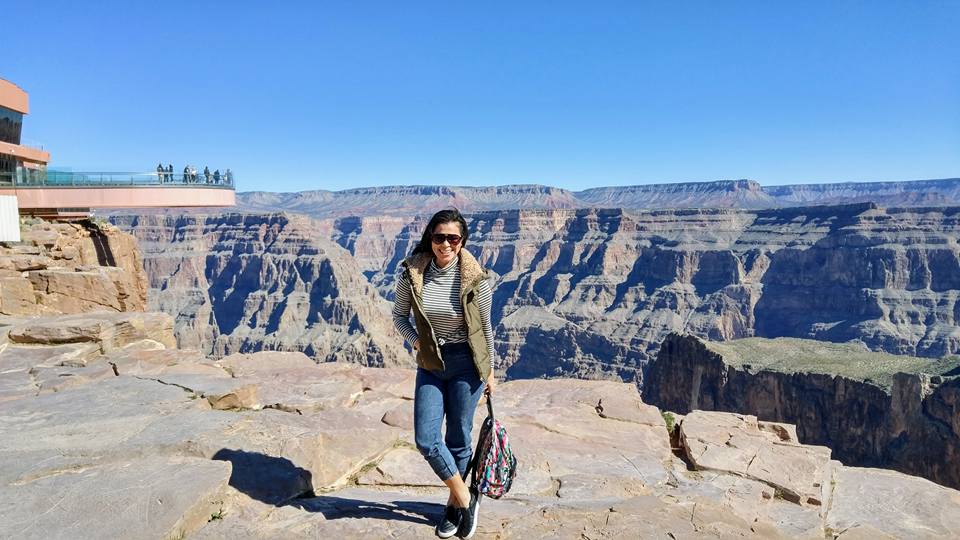 After that it was time to go onto the Skywalk which is an incredible 4000 feet above the canyon's floor.  We made our way out onto the glass bridge and it was thrilling,   scary and exhilarating all at the same time.  Looking under your feet, you had a clear view below you for thousands of feet!  It was one of the most amazing things I have ever experienced.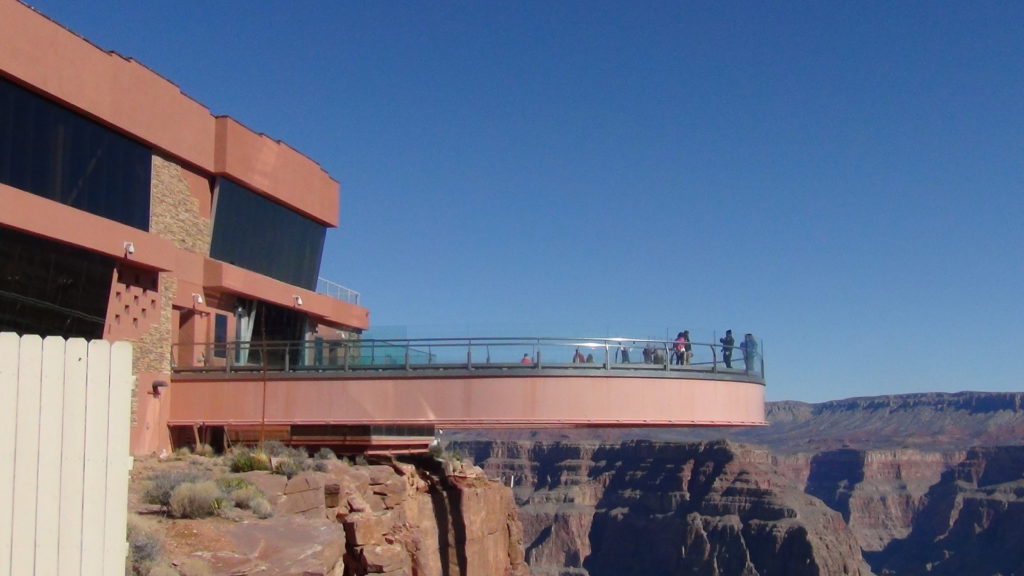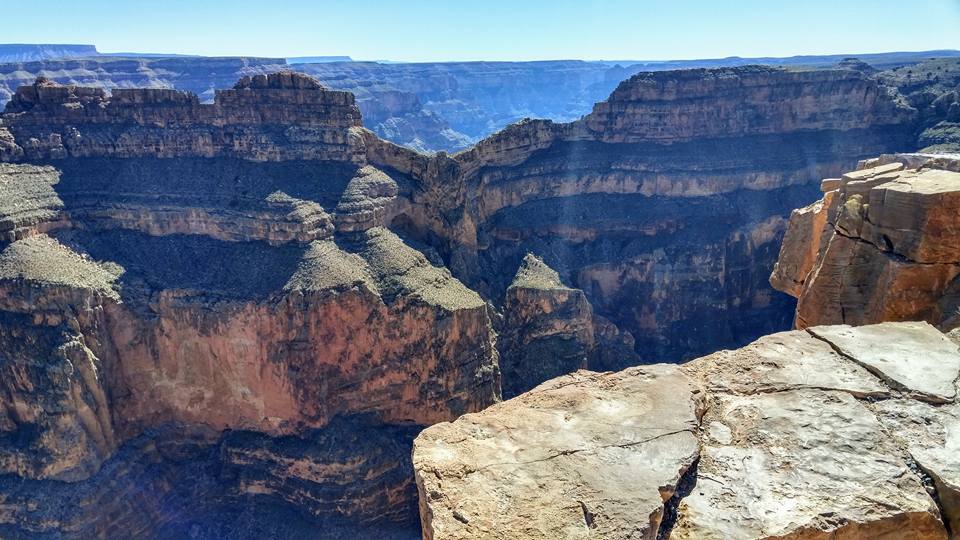 Next up we were all getting hungry, so it was time for a break.  Randy gave us several options for eating, and because it was so beautiful outside, we opted to eat at the edge of the canyon.  It was a million dollar view for sure!  The lunch was also included in the package and we got our choice of chicken or beef, corn, a roll, potatoes, and a salad.  Not only was it filling, but it was great tasting as well.  It definitely hit the spot after the busy morning we had had.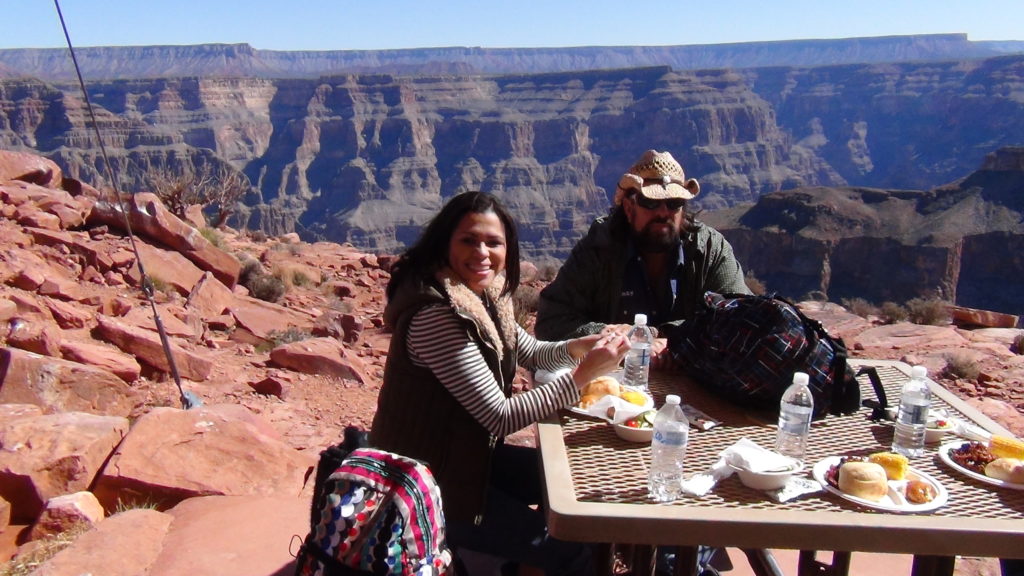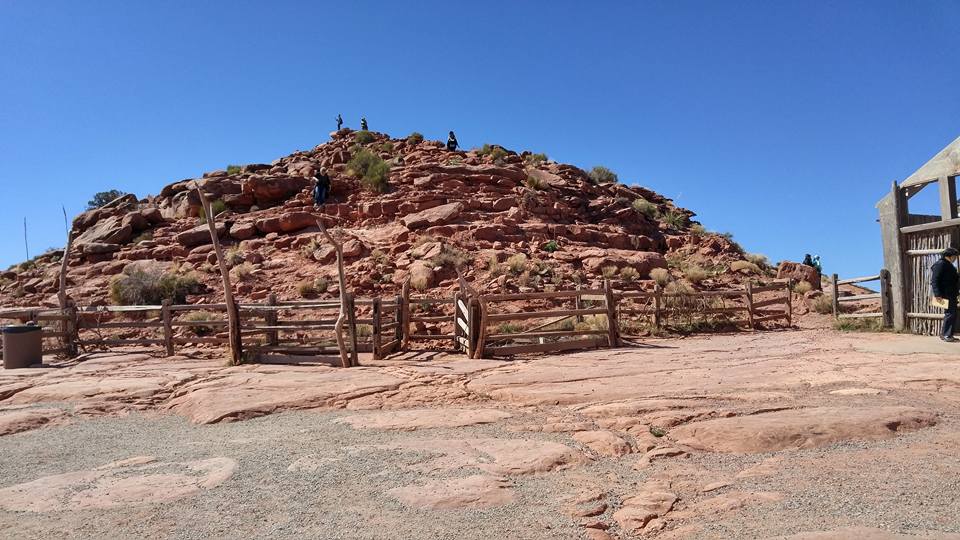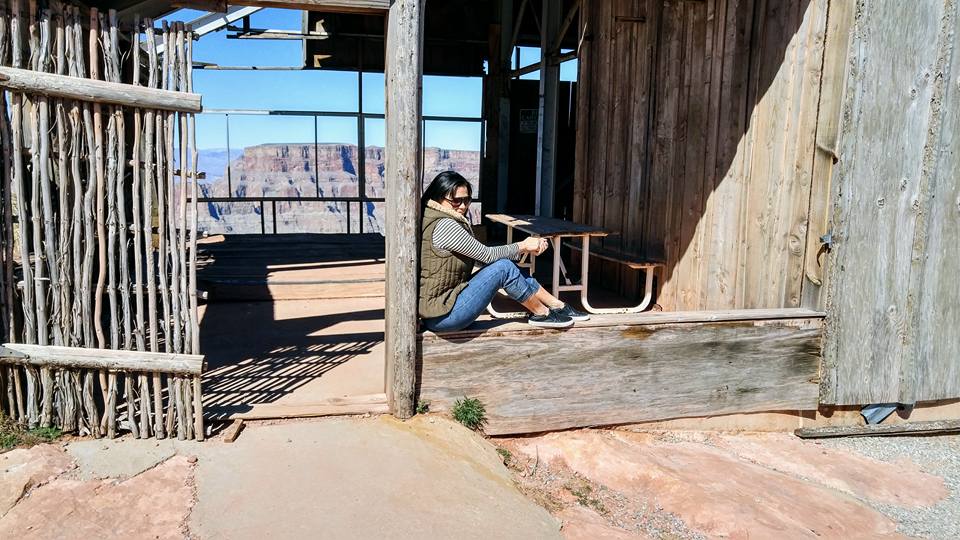 Next up we took a stroll along the rim of the canyon and just took it all in.  Of course I took more than my share of photos!  Randy was awesome, telling us about everything we were seeing, taking pictures for us, and even carrying our things while we climbed to the top of the rocks.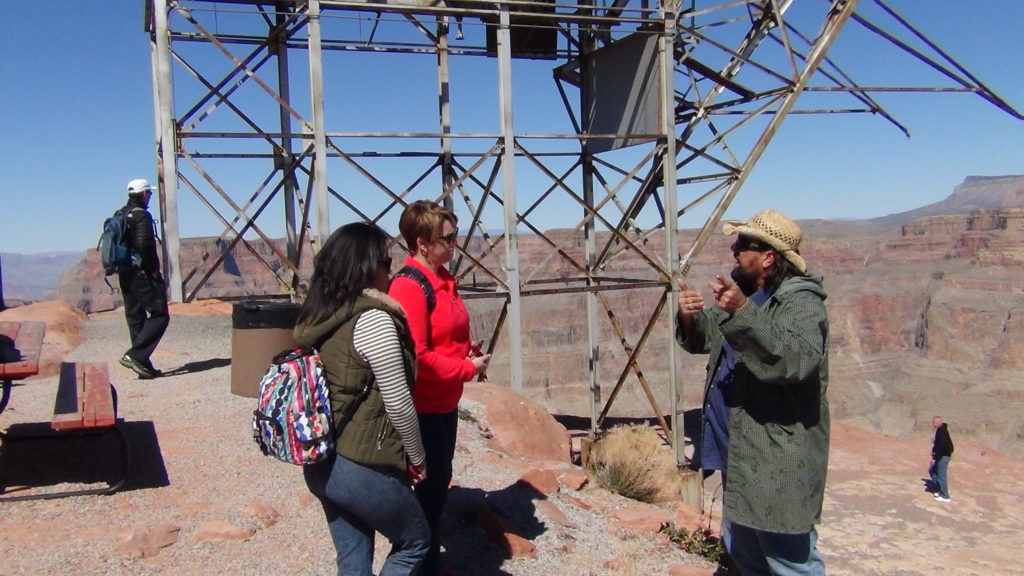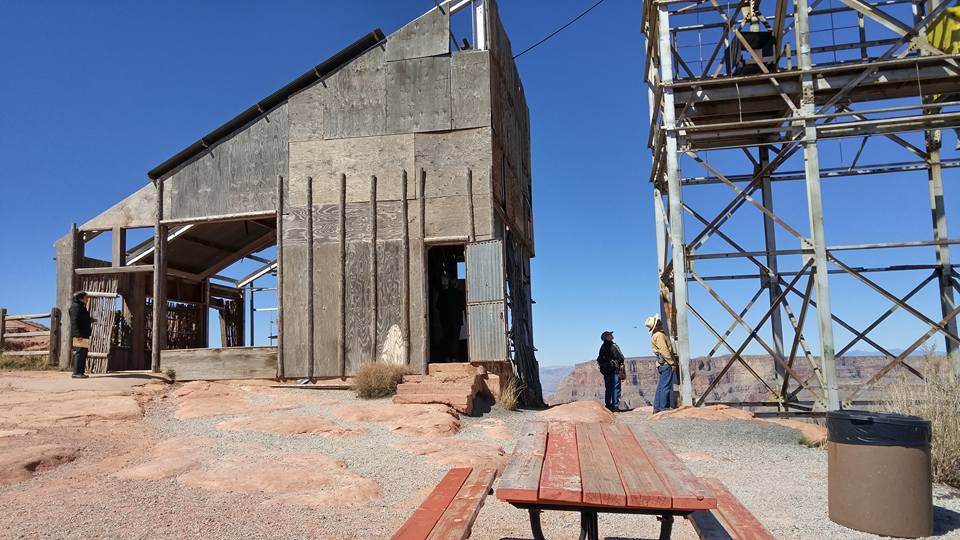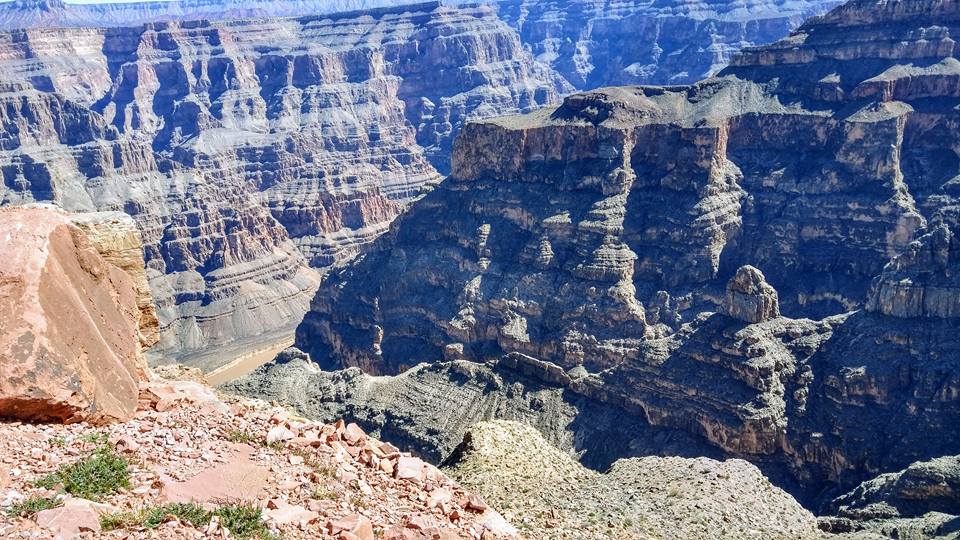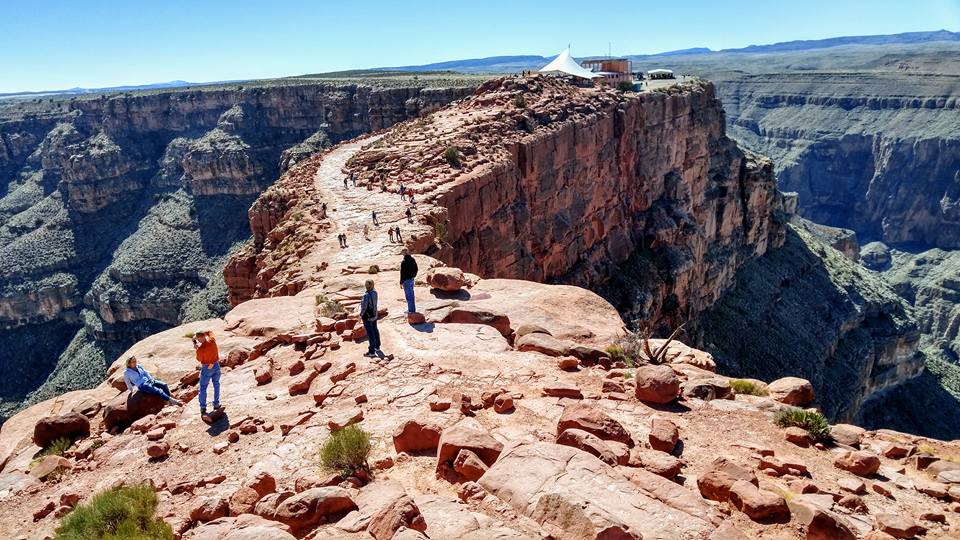 Finally, it was time to head back home.  A short bus trip back, and some time spent in the gift shop picking up some mementos and we were ready to go.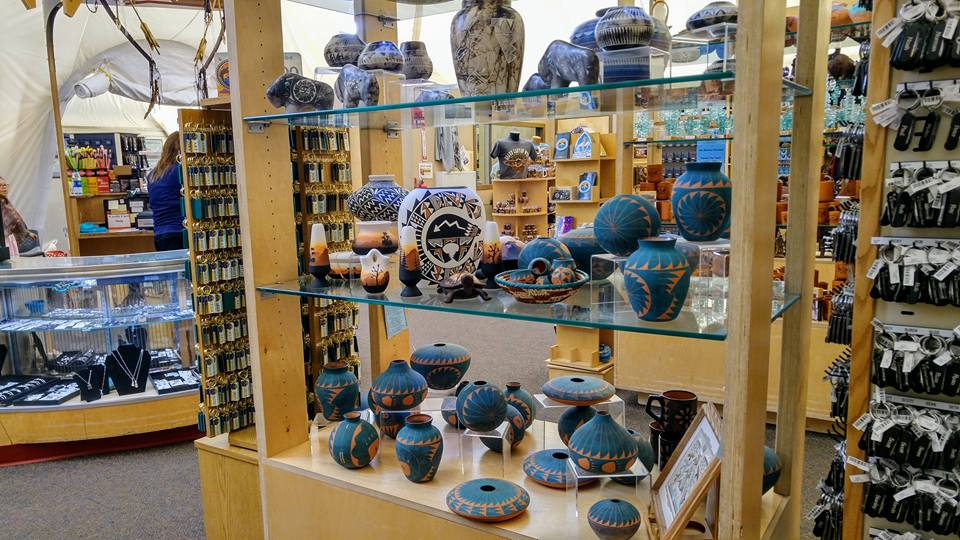 Of course there was still fun to be had.  Randy took us for a little off road driving through the Joshua Tree forest.  It was a little scary for me, but we all had a lot of fun.  We also stopped to take some pictures of this fascinating place.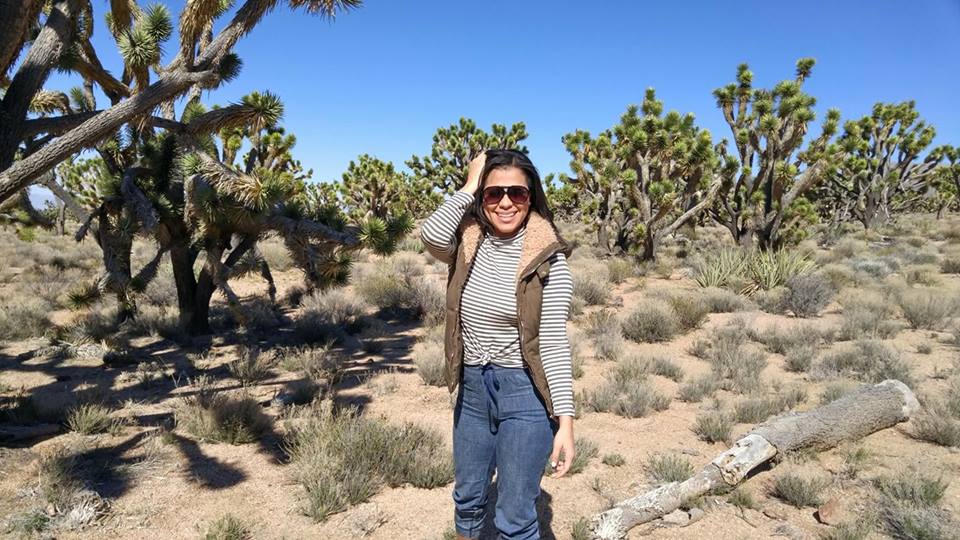 Eventually, we made it back home right around 4 p.m.  I had no idea that you could make this trip, see everything, and be back before dark!  I have no idea what took me so long to go, but I was so glad I made the trip with Big Horn Tours.  They made it much more fun than if we had gone on our own.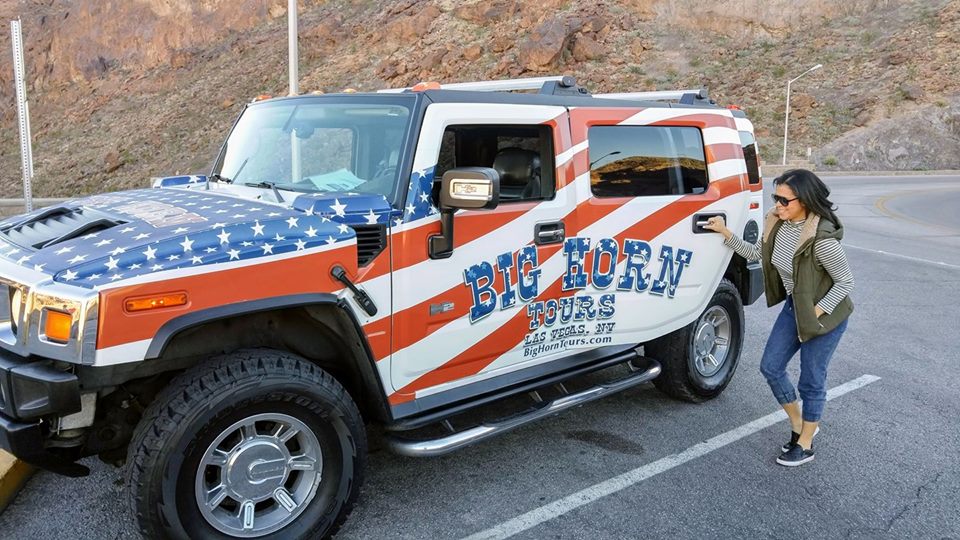 I just want to thank all of them for being so accommodating and professional.  Randy was a total blast and probably knows more about this part of the country than anyone I know.  When you want a perfect tour guide, he is who you are looking for.  It was his total goal to make sure all of us had the best time we possibly could, and he totally succeeded!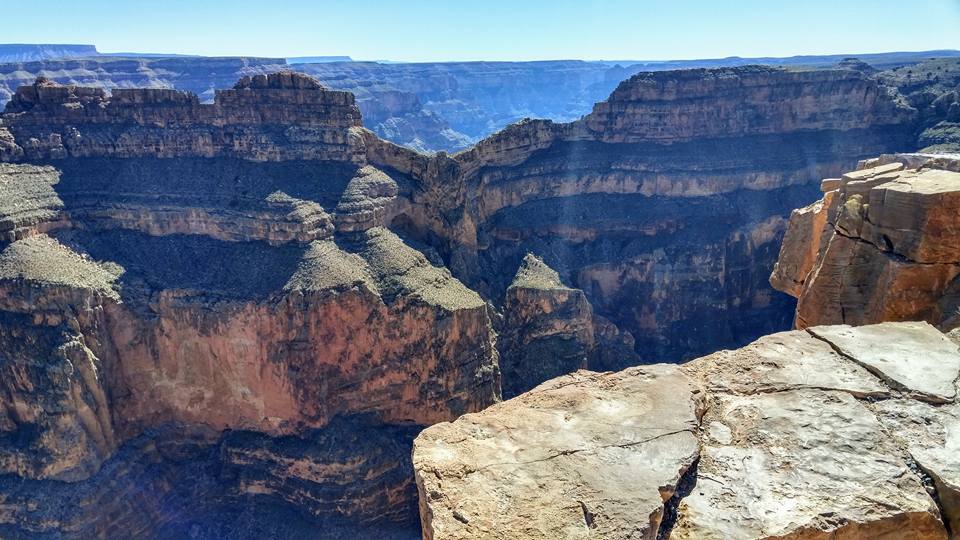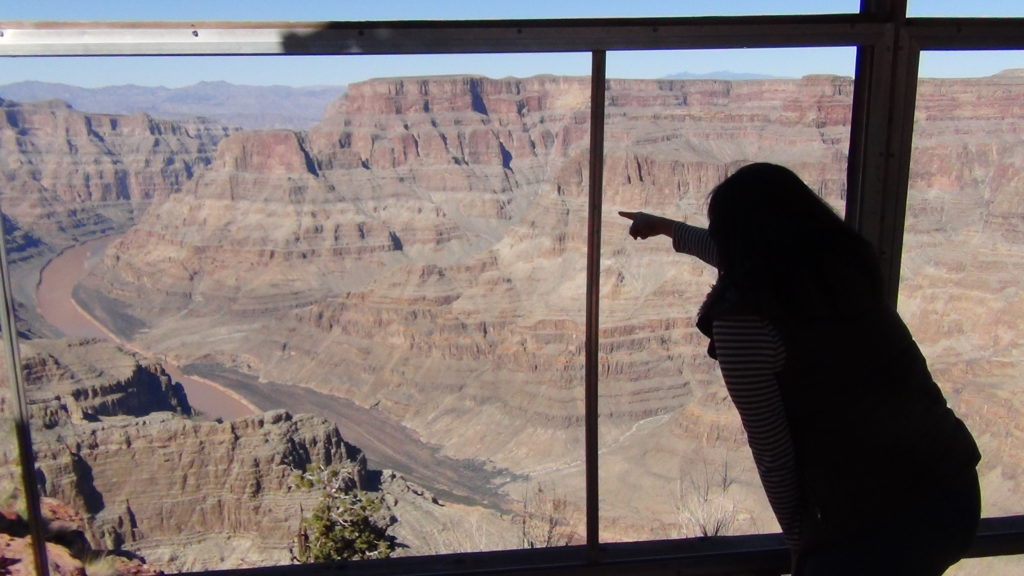 I can't recommend this tour enough.  But if the Grand Canyon is not your thing, they have several other tours available to places like Death Valley and the Hoover Dam.  They will even set up a personalized tour for you if you prefer to go somewhere they don't normally go.  I am sure after hearing some of Randy's stories, we will be coming up with something else soon.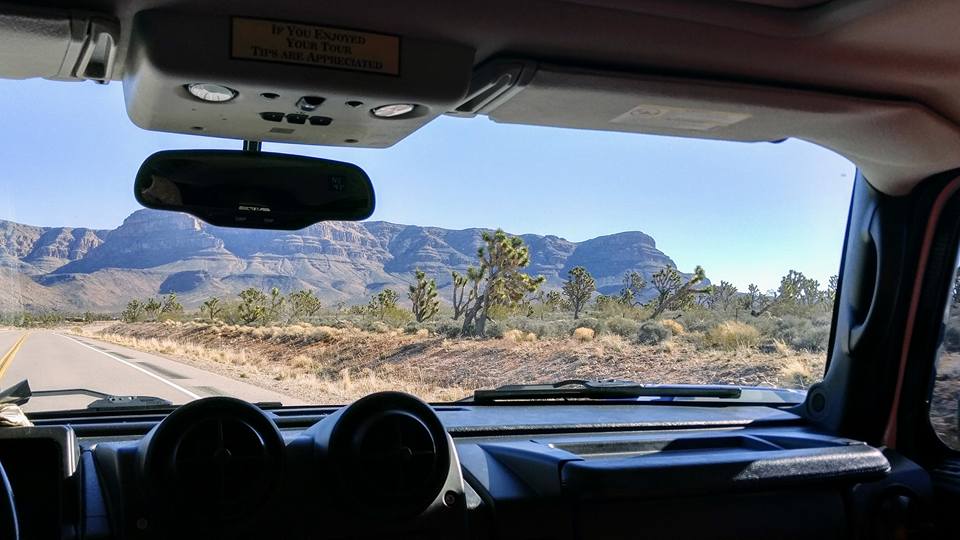 Don't just take my word for it, try them out for yourselves.  Leave the planning to them and just sit back and enjoy the ride.  You can see all the things they offer on their website HERE.  We were glad we did, and you will be too.








by