Once I had planned my trip to Cabo San Lucas, I was so excited at all the excursions I had signed up for. However, as I looked it all over, I realized there was one glaring omission from my list. How could I take a trip to Mexico, and not swim with the dolphins! It had always been on my bucket list, and this was the perfect opportunity to scratch it off.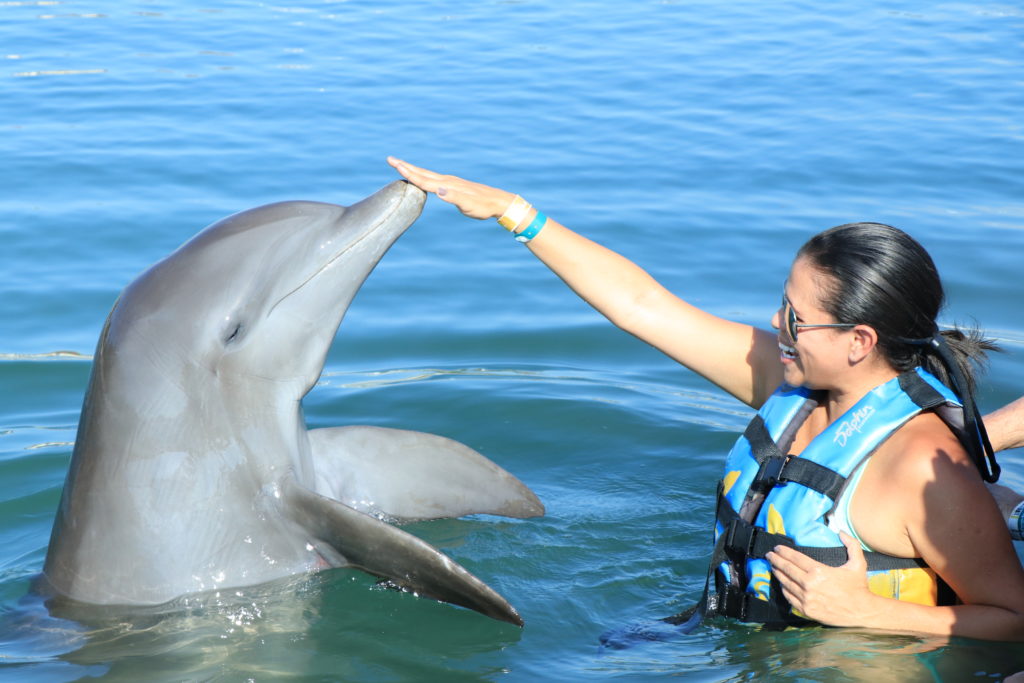 I had some time available on Sunday morning, and luckily for me, Dolphin Discovery had a program that fit perfectly into my schedule. My dream was about to come true! I immediately signed up for the tour and eagerly awaited for the time to come.
The location was very close to our resort in San Jose, so we arrived in just a few minutes. It is located in a small arena that offered beautiful views of the water. We took in the view for a few minutes and also browsed the gift shop for a few minutes while we waited for our excursion to begin.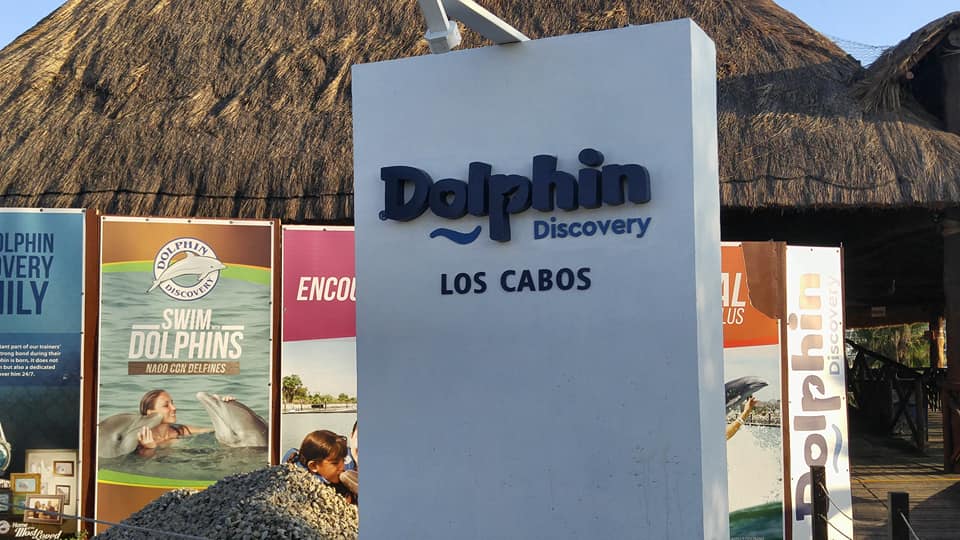 First things first, one of the dolphin trainers gave us all a safety briefing and explained to us how things would go. She was bi-lingual, so even though our group consisted of both Spanish and English speakers, we all had no problems understanding what would be going on. She informed us of the hand signals we would be using, and what they meant to the dolphins.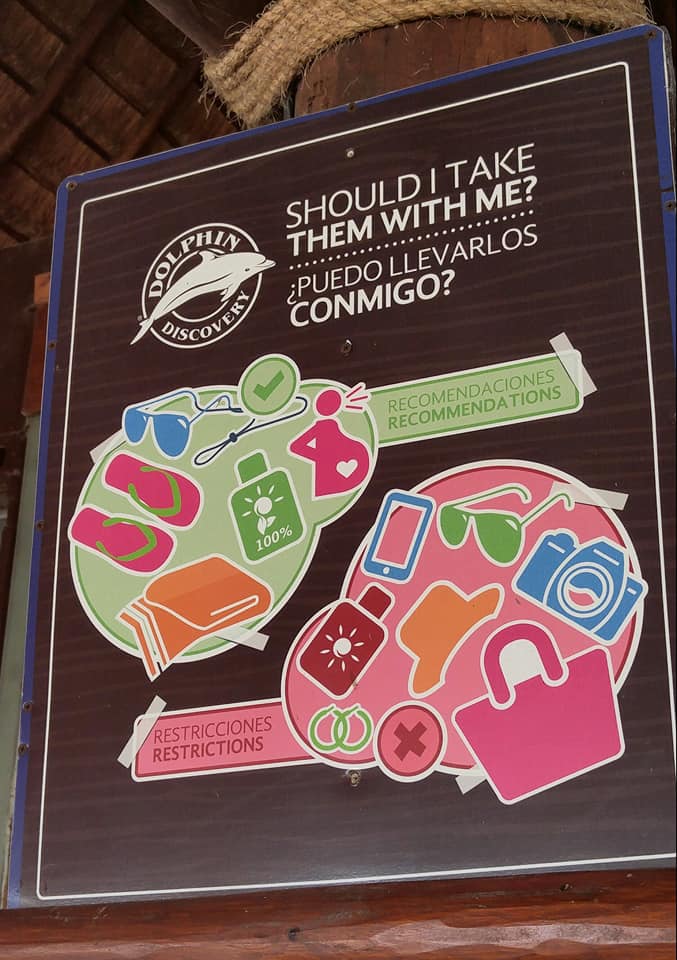 Finally, it was time to begin! But first we made a stop to visit a camel that also lived at the facility. We took a photo with him, and even got a kiss as he took a carrot out of my mouth. He was really sweet, and I was surprised that his hair was actually very curly.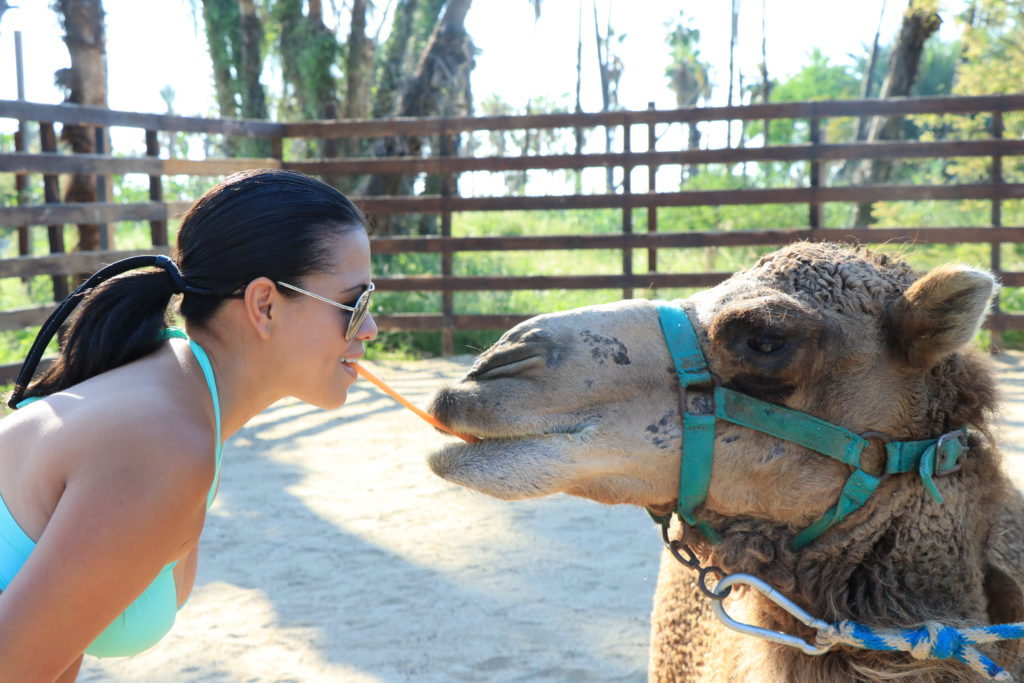 Next we made our way to the water and were fitted with life jackets. There were several different locations where the dolphins stay. The one we went to had four dolphins in it, and we got to work with three of them. As a group, we made our way down into the water where there was a ledge that allowed us to stand close to the dolphins, but also allowed them to swim freely.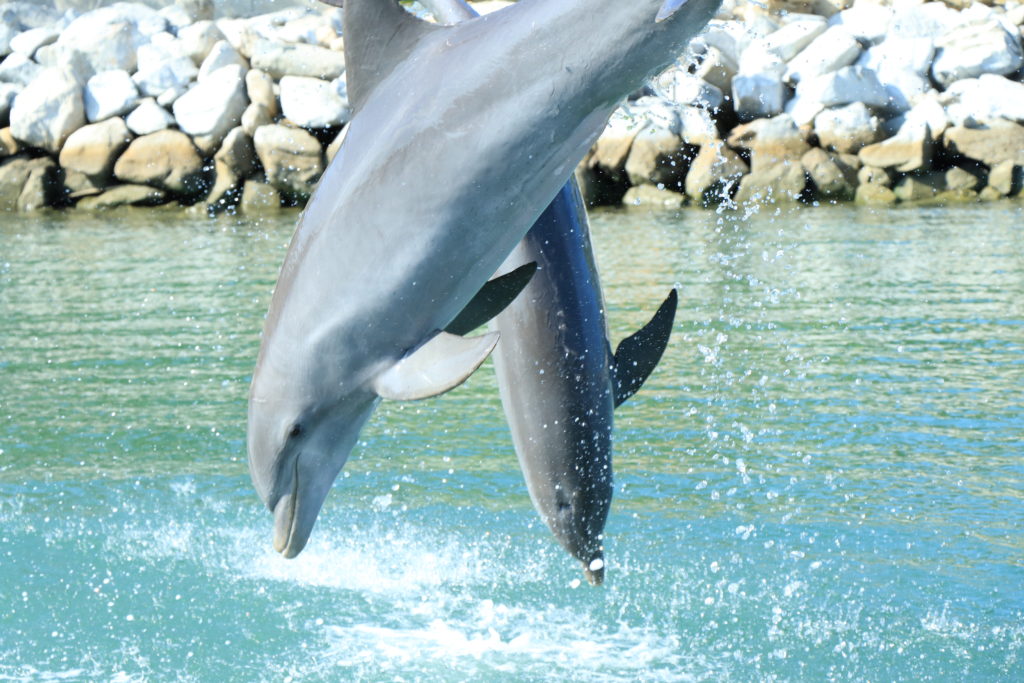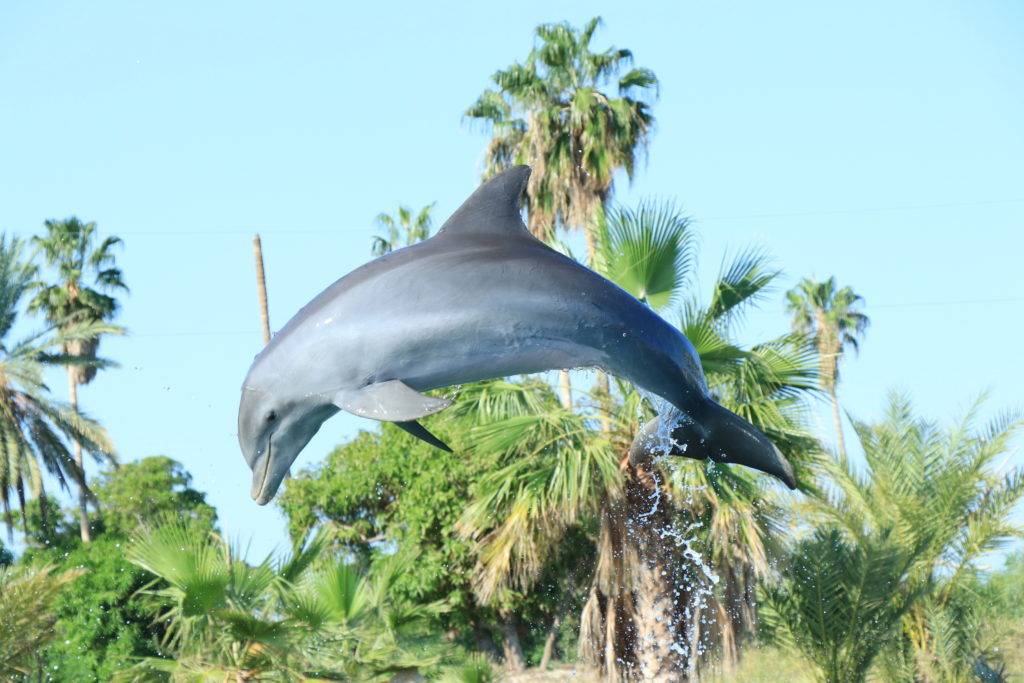 Our instructor, Jose Navarro told us all about the dolphins we were working with. I was so awesome to actually be so close to them for the first time in my life. He started us out slowly, having the dolphins swim close to us, allowing us to gently rub on their backs. I don't know what I expected it to feel like, but it was not like I was expecting. They had almost a rubber feel to them.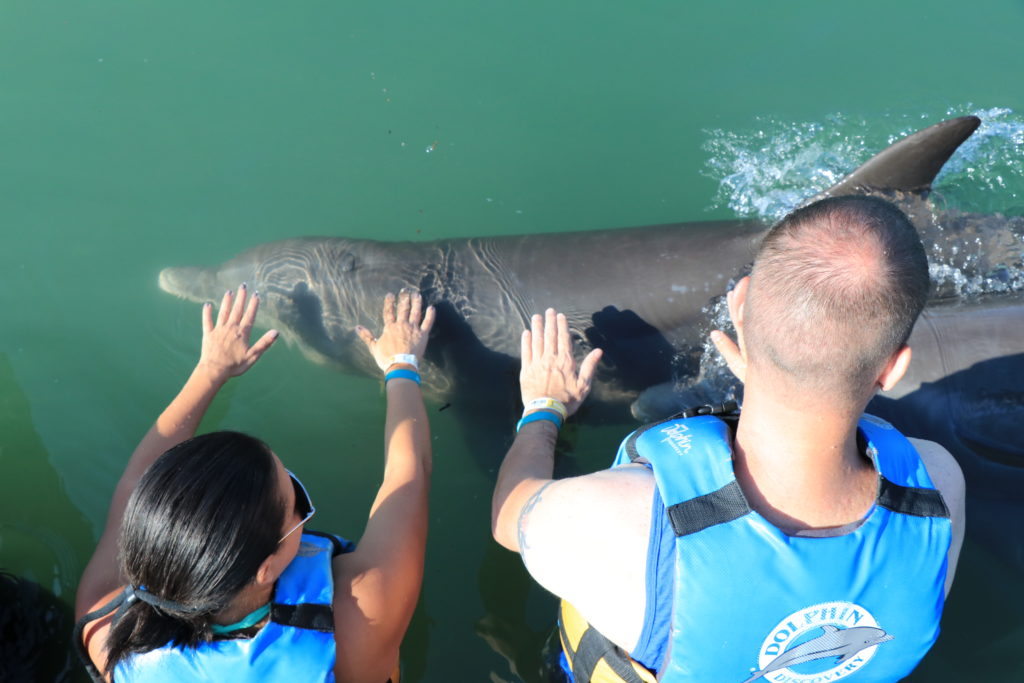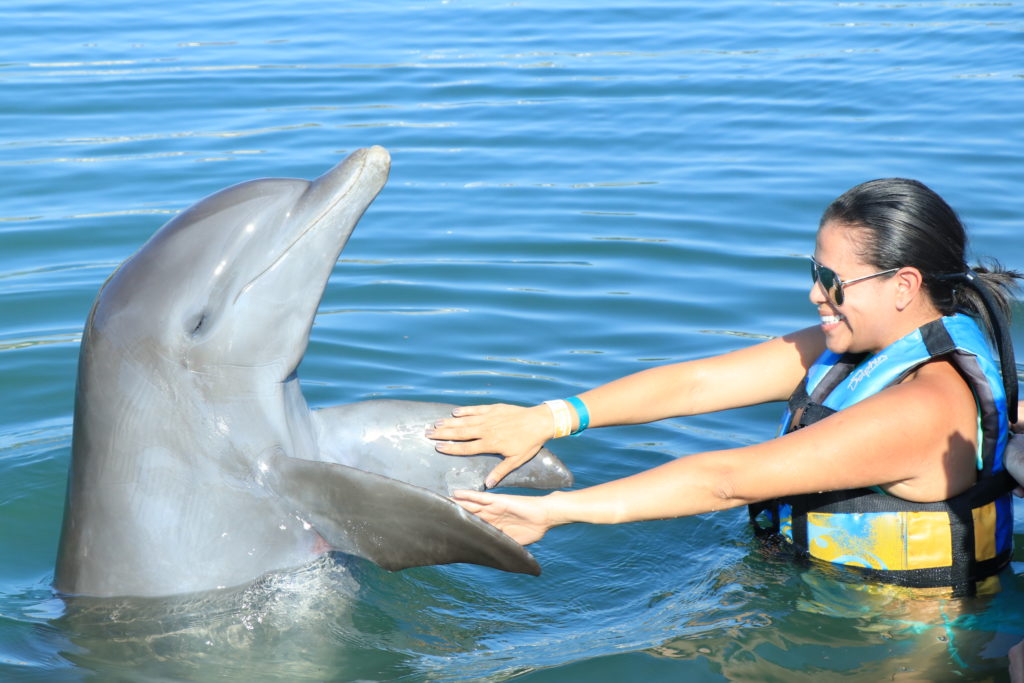 Next, it was time for the fun to begin! We each swam out to the middle of the enclosure. From there, the dolphins came up behind us and we grabbed on to there bottom fins and they pulled us back to the side. It was incredible feeling how strong these things are. They pulled me as if I was nothing at all.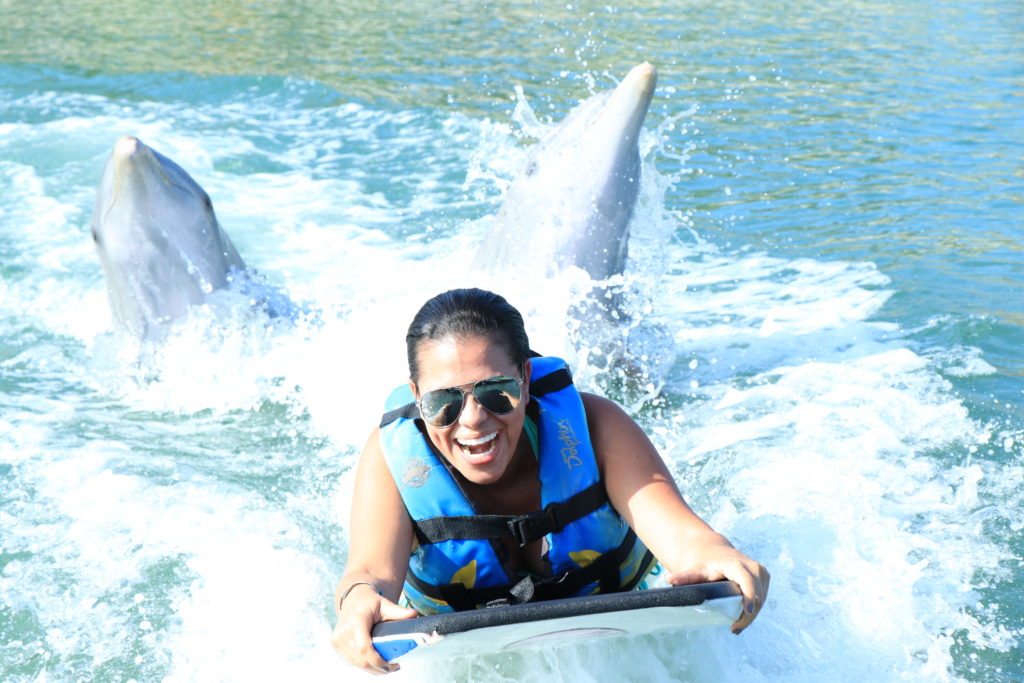 We spent some more time learning about the and also rubbing them a little more. Then we started to take some of our pictures. Luis Ojeda works with Dolphin Discovery as a photographer. Unfortunately, do to safety reasons, you can't bring your own camera with you out to the water. But there is no need to worry because Luis does an amazing job! He had all of us pose in just the right position, or took great action shots so that we would all have great memories of the experience. And how can you go and kiss a dolphin and not have a picture of it??!!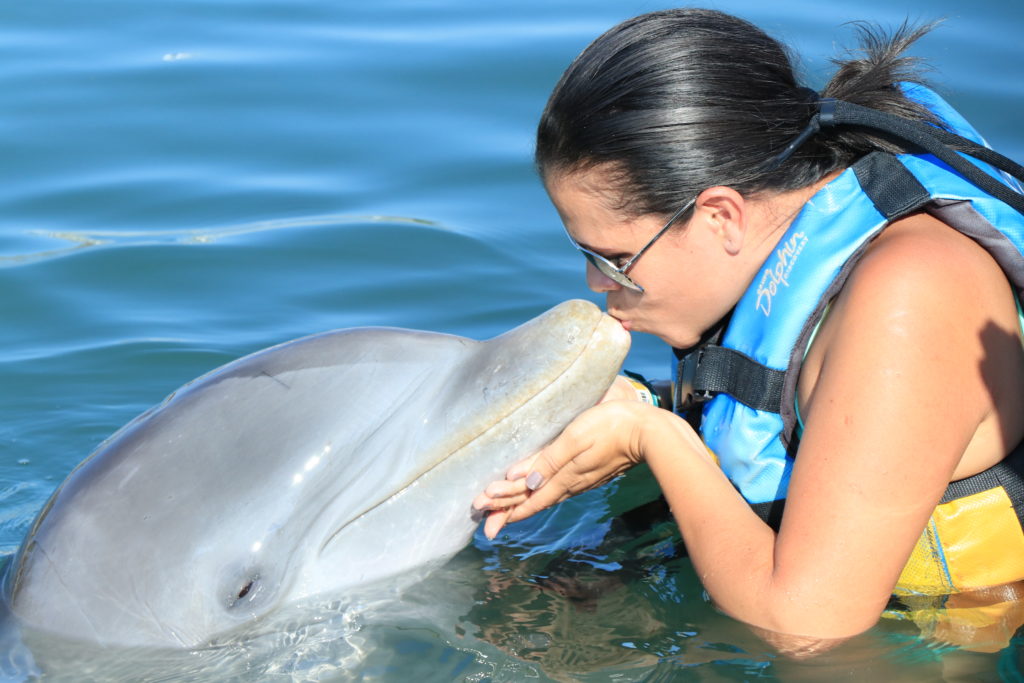 Next, it was back to the fun. This time, two of the dolphins came up and pushed on my feet. It was like I was skiing without the use of a boat. I was going so fast in a circle, only powered by these amazing dolphins. It was one of the coolest things I have ever done.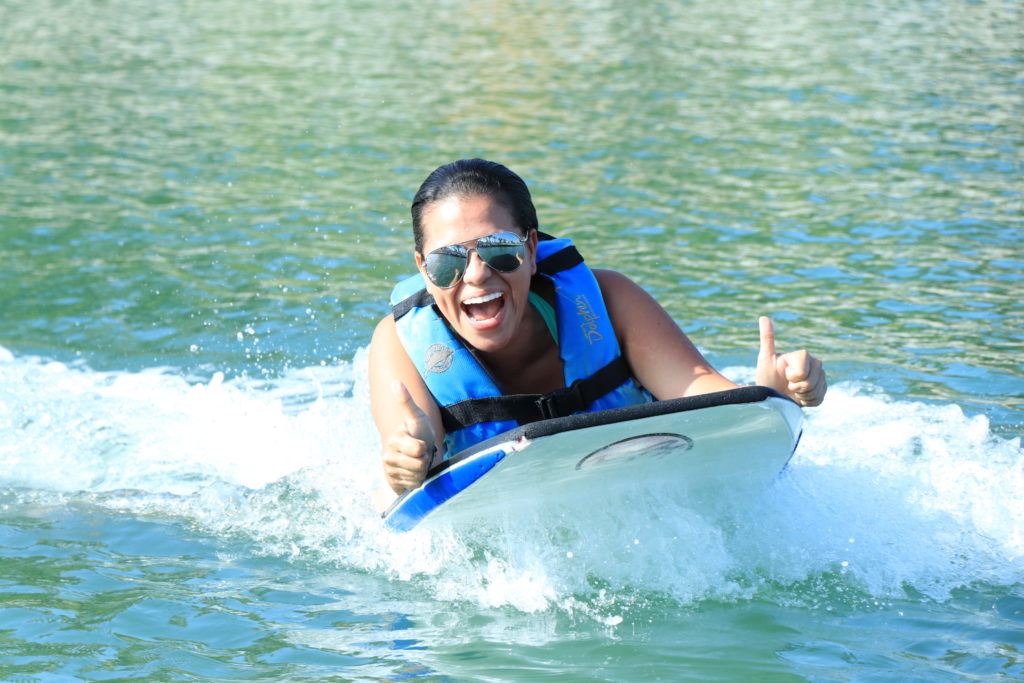 Finally, the amazing experience was over. We said our goodbyes to the dolphins and headed out of the water. But there was still more!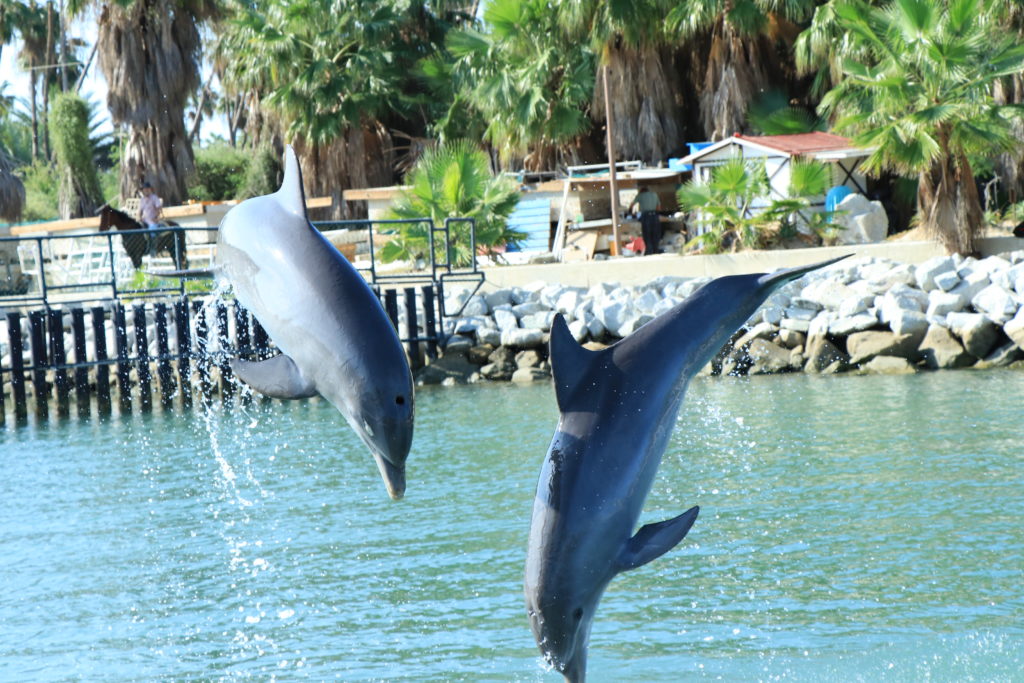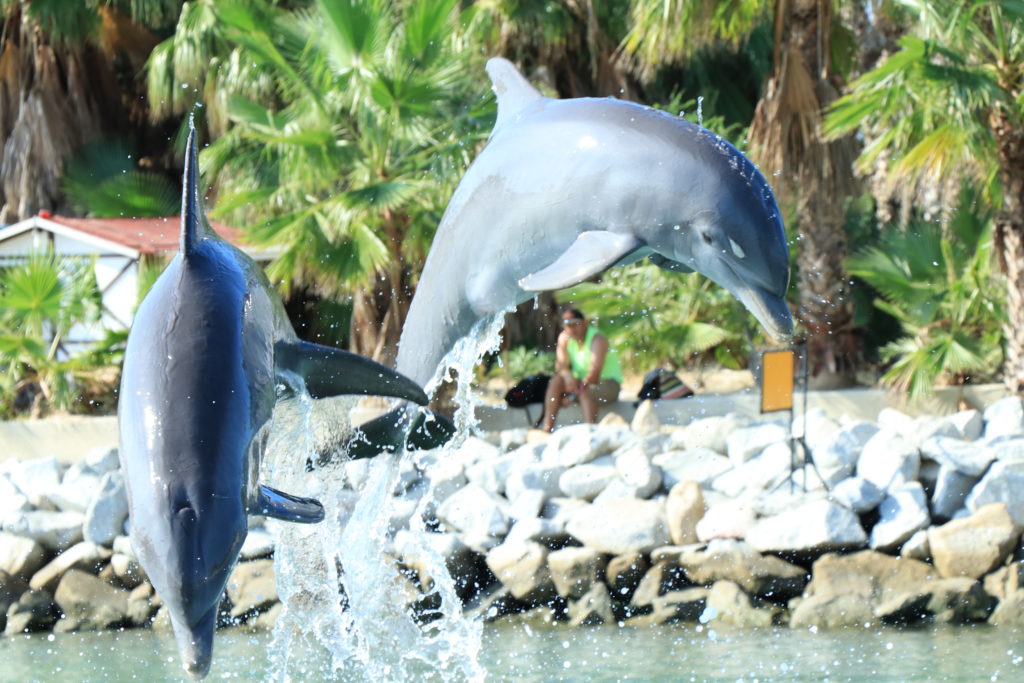 Next we had the opportunity to go out onto the water on a boat. I don't know what kind of boat it was, but it was fast. It had strange seats that were kind of like a bicycle seat, just more comfortable. Our captain took us out and slammed on the gas. We all had a ball as he hit the waves and drove all over the place. This boat was a total blast. What a way to end the trip!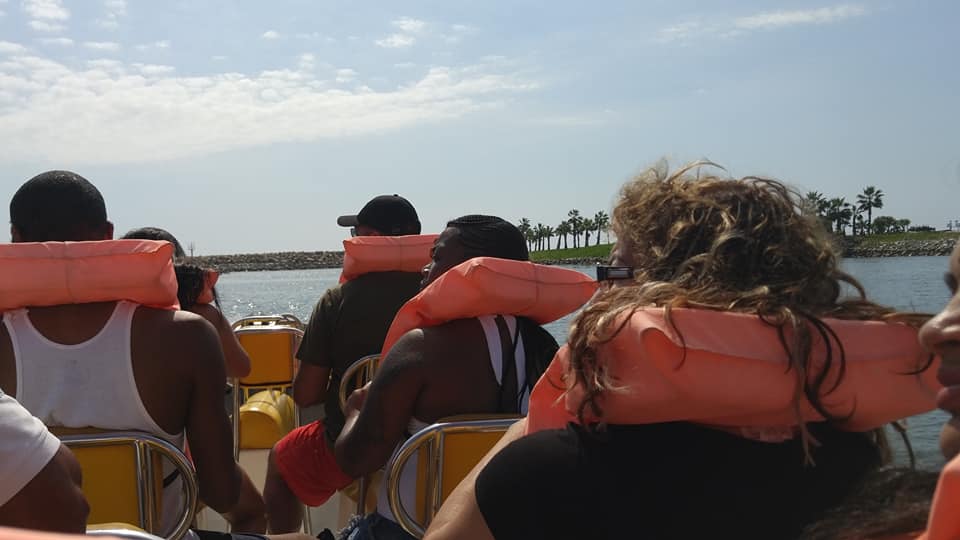 As we docked, we were led over to a small restaurant that sits right on the water. They had a small buffet with Mexican and American offerings, and the best part is that it was all included in the package! So we enjoyed our meal and spent some time talking to some new friends. What a great day. I am so glad that we added this to our list.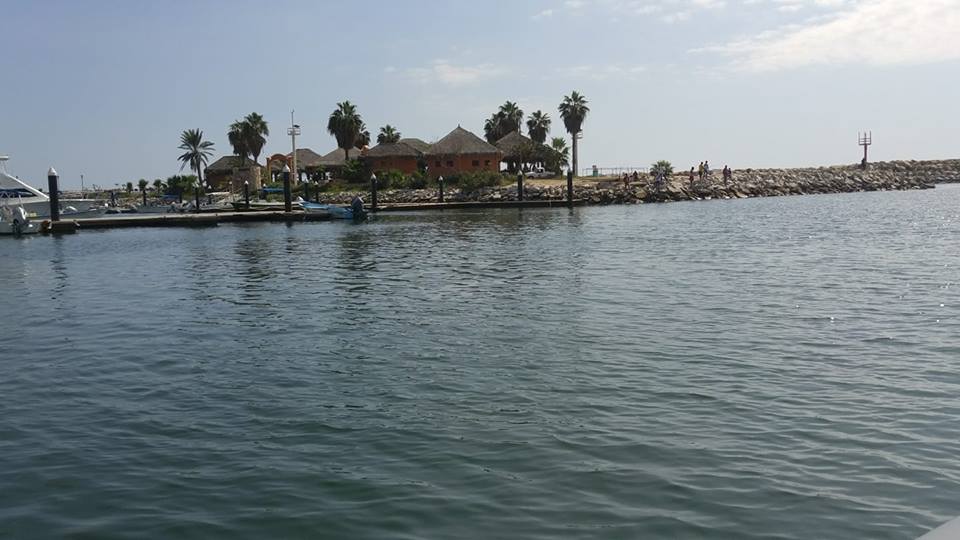 I would like to thank all the people at Dolphin Discovery for showing us such a great time. It is something I have wanted to do for years and they totally nailed it. I will have lifelong memories of my wonderful experience. If you are going to Los Cabos, they are definitely a company you want to check out. They also have locations in Italy, United States, Jamaica, Caribbean Island and Mexico. You can visit them HERE, and see all the wonderful tours that they offer. You will not regret it!









by