Those of you that have followed this blog over the years know that I love to try new restaurants. I enjoy everything from hole in the wall diners to fancy places that allow me to get dressed up for the occasion. This past week I got to try out a new place that falls a little on the latter side of that scale.
Andiron Steak & Sea in Downtown Summerlin is a place I have had my eye on for quite awhile. Until now, I have never made it in, however. That was my mistake, and one I am so glad I have been able to rectify.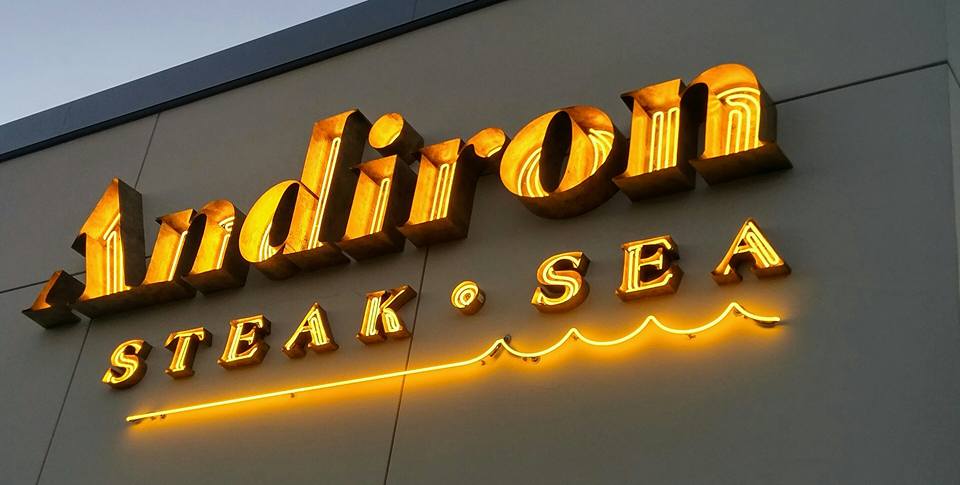 Before we even entered the restaurant, we could see their beautiful patio that was full of people enjoying delicious food and great company. We debated sitting out there, but ultimately decided to enjoy our food inside. However, when I return, weather permitting, I might have to try it out next time.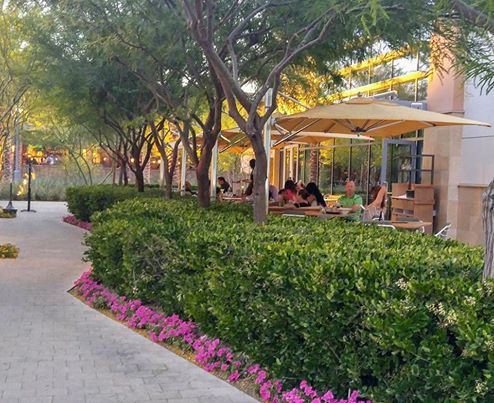 We were immediately greeted by a hostess who took us directly to our seats. Looking around, the place looked amazing. It almost gave off a beach vibe with all the white drapery. Everything was open and flowed so beautifully. It was elegant, but not pretentious at all.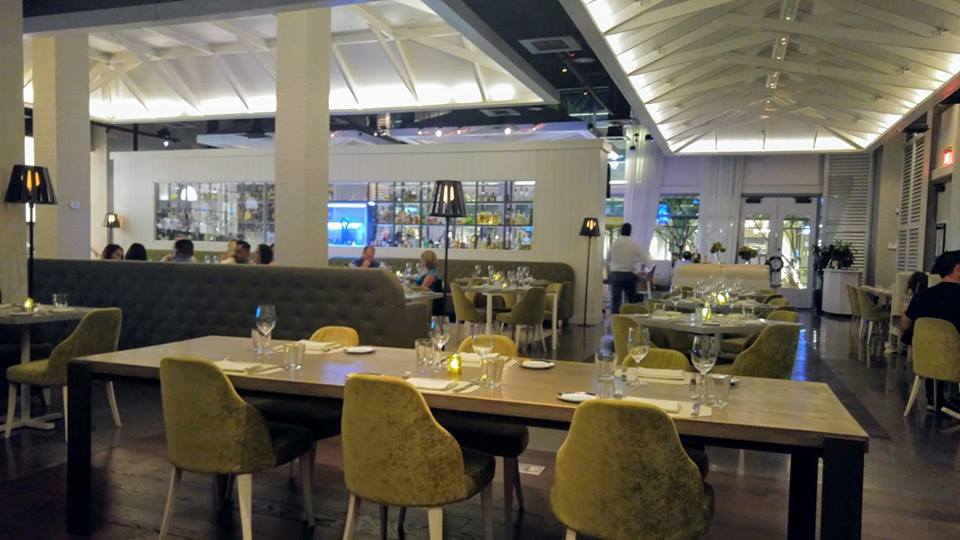 Shortly after we were seated, our server came over. It was obvious it wasn't his first day as he knew everything about what was offered on the menu and then some. He gave us a rundown of what they had and offered us some suggestions that were his favorites, as well as what was popular with the guests. This helped a lot because, although nothing on the menu is too strange, a lot of it offered a unique twist.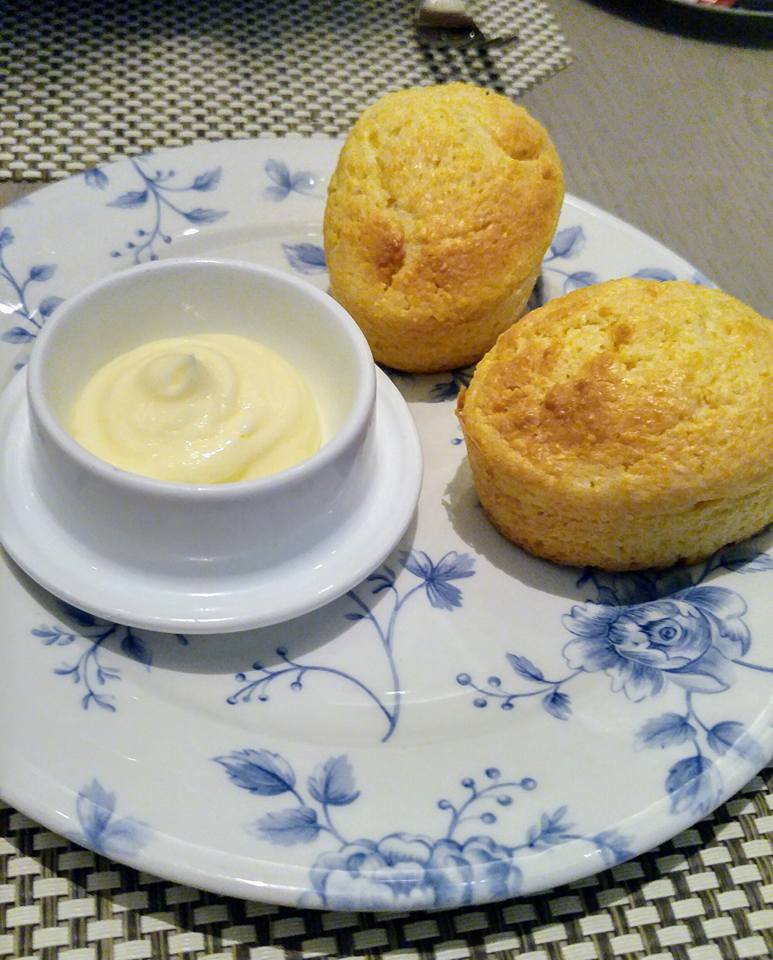 We decided to try a large variety of what they had to offer. First up was appetizers and alcohol. What better way to start any meal??!! The Pineapple Bump sounded interesting, so we ordered that along with avocado toast, roasted carrot soup and some fried chicken bao buns.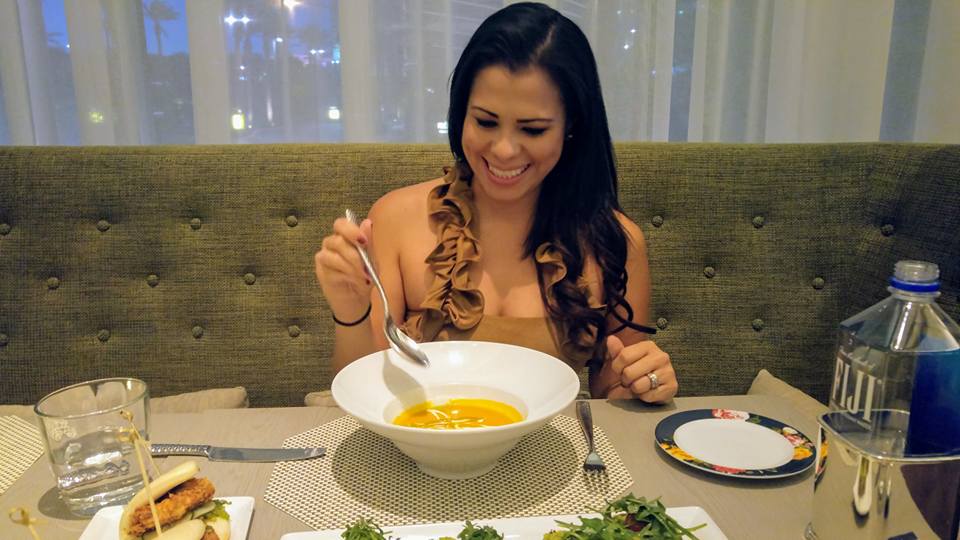 The Pineapple Bump was delicious! It was definitely sweet, so it might not be for everyone. But it was certainly nice for me as I am not a big fan of hard alcohol taste. It comes out in a really cool copper pineapple and features premium vodka and a variety of juices. Delicious!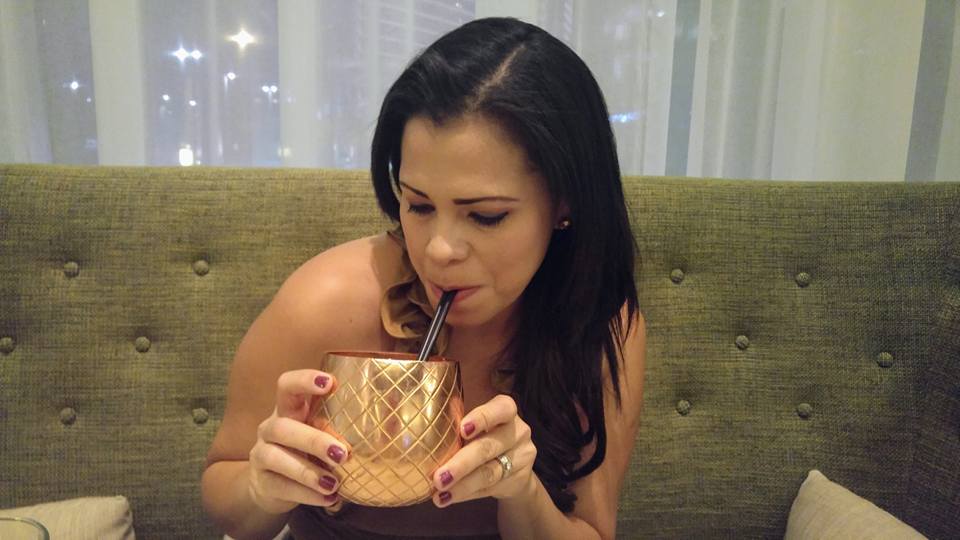 The appetizers were a great way to whet our appetites. The carrot soup was unique, and although I was apprehensive trying it, I found it to be quite refreshing. The fried chicken bao buns were wonderful.
The chicken was cooked and seasoned to perfection, while the buns were unlike any I have ever tried. The were a very fresh dough that tasted like they had just come out of the oven.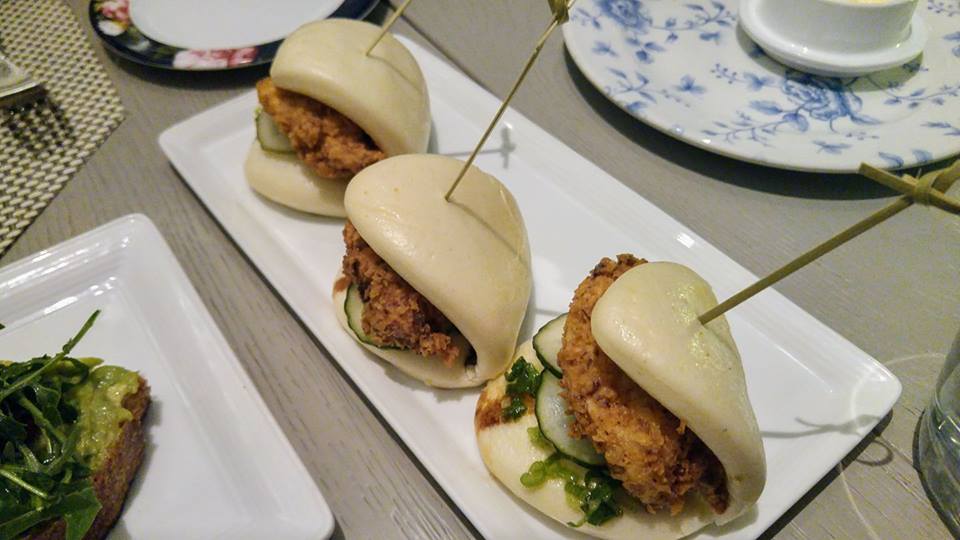 Finally, perhaps my favorite thing of the night was the avocado toast. It is hard to believe something so seemingly simple can be so delectable. The toast was topped with perfectly fresh and incredible avocado. I could have had this as my meal alone.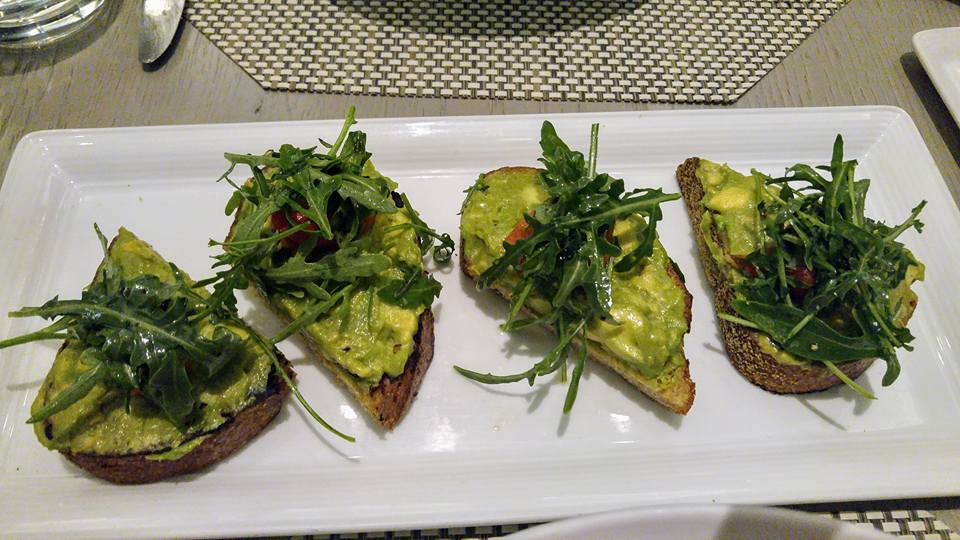 After eating the appetizers, we recuperated for a few minutes and enjoyed our surroundings while we sipped on our Pineapple Bumps. We had eaten quite a bit, but knew there was plenty more on the way.
For the main course we went with the 14 oz. NY prime strip steak along with the roasted half free-range chicken.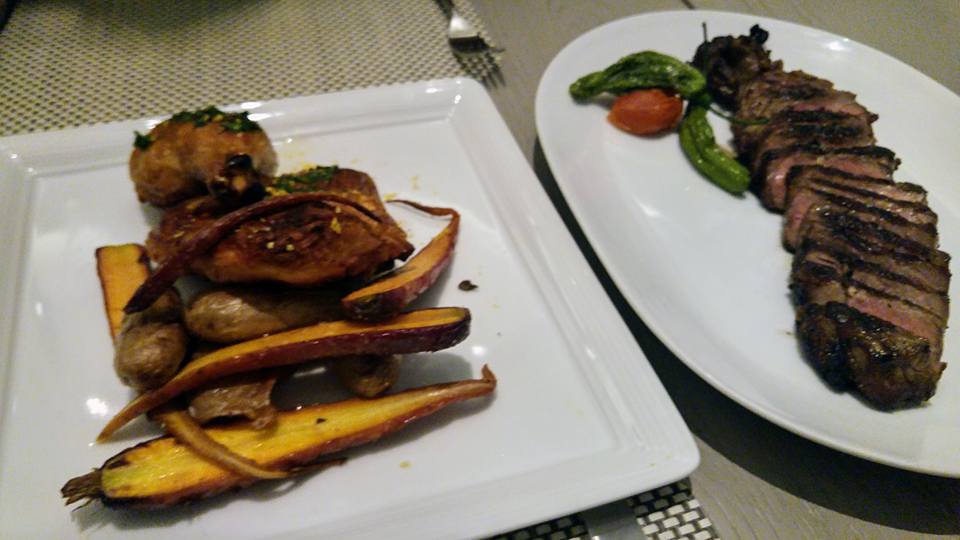 The steak was one of the better I can remember having. It came out beautifully sliced and had a delicious crust that made me savor every bite. It was so good I could have eaten two of them. I am so glad I took the waiter's recommendation on this one. It also cames with your choice of dipping sauces that make it just that much better.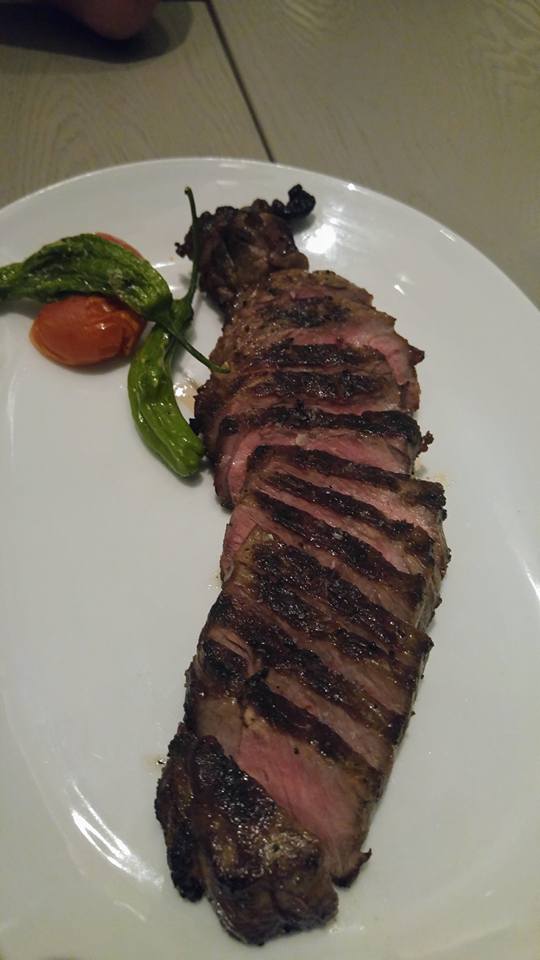 The chicken came served on a bed of baby carrots. It was perfectly cooked, and was nice and juicy. It was certainly a good amount of food that would be more than enough for even those with big appetites.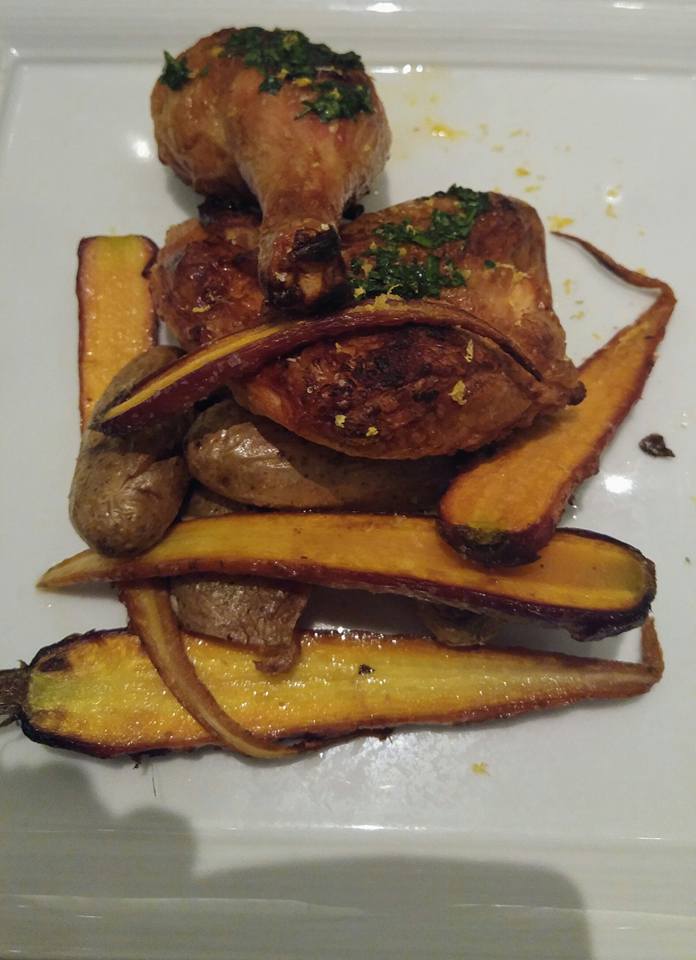 You can't have a main course with out sides. And those did not disappoint. We had jalapeno bacon churros, crispy Brussels sprouts, and Torchio mac & cheese.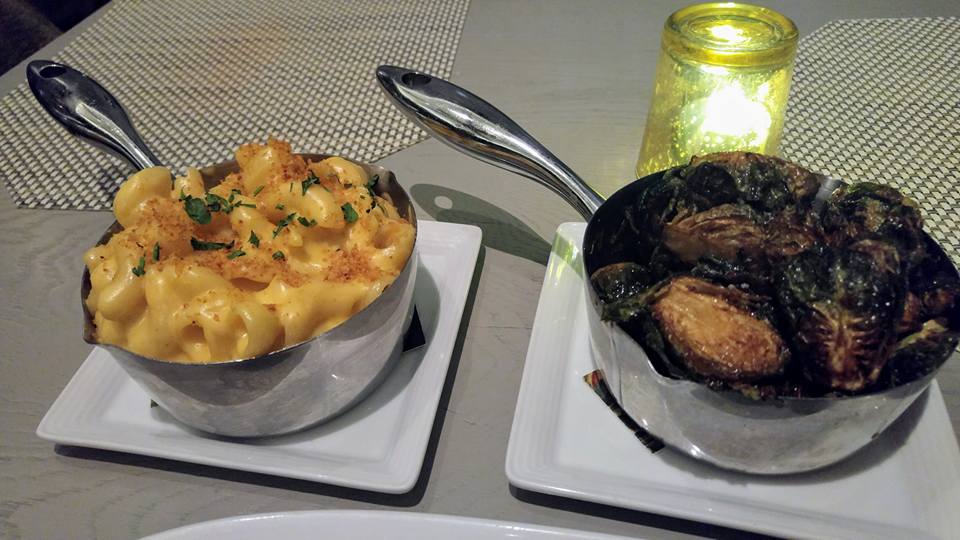 I have never had churros like these, and didn't know quite what to make of them at first. Being used to a much sweeter version, the first was strange to my palette. However, trying another, I adjusted and found them quite good.
I hate Brussels sprouts, just like millions of other people. I reluctantly took the waiter's suggestion to try these, as he promised they would be unlike any I had tried. He was right. These are fried and have a sweet sriracha glaze that made them quite nice. I couldn't believe I was actually eating them. My mom would be so proud!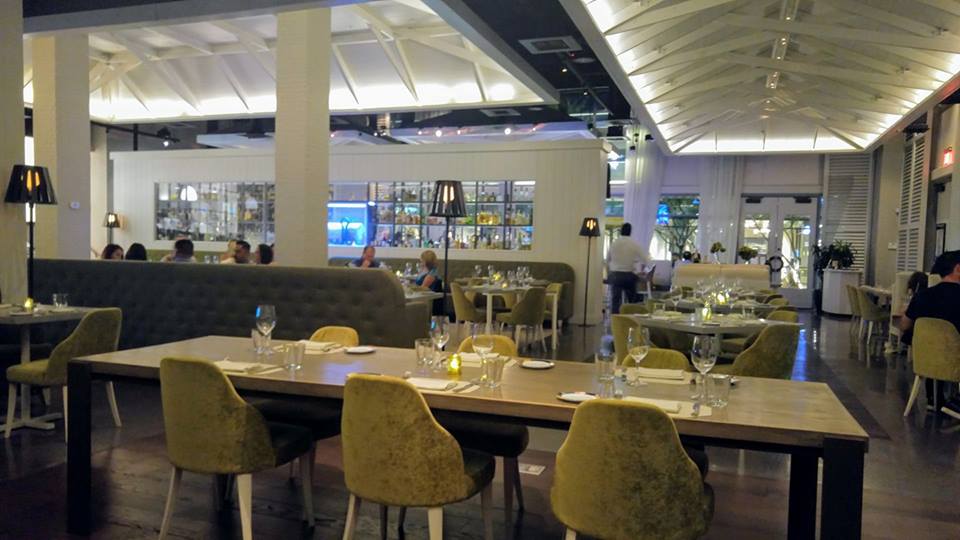 Finally came the mac & cheese. This is definitely not like the Kraft mac & cheese you have at home! Made with several kinds of cheese, this was rich and the perfect definition of comfort food.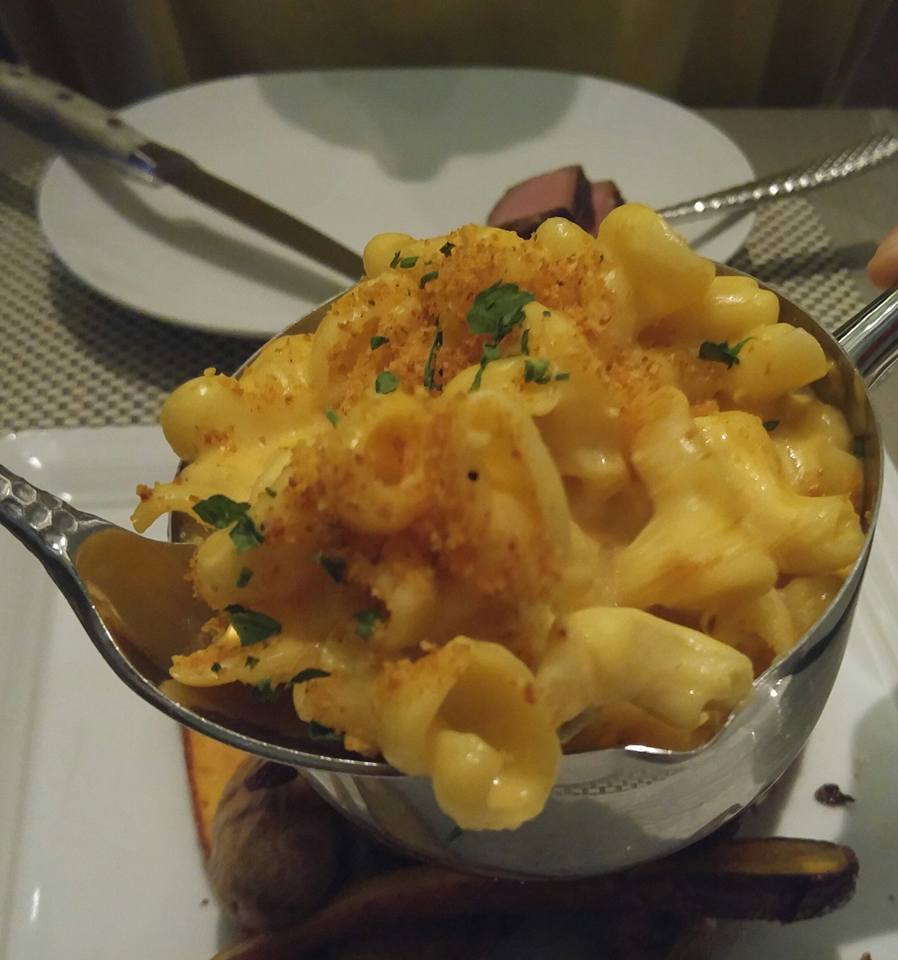 We started to slow down, not because of the quality of the food, but rather the amount we had gone through was quite staggering at this point. I had no idea I was capable of eating so much. But every bite was worth it!
However, we still were not quite done. We had to finish things off with dessert whether we had room for it or not. We opted for some tres leches cake and some fried donuts that were absolutely amazing. As good as both were, I am afraid we would have enjoyed them even more had we not been so full already. No worries, we still managed to finish them off.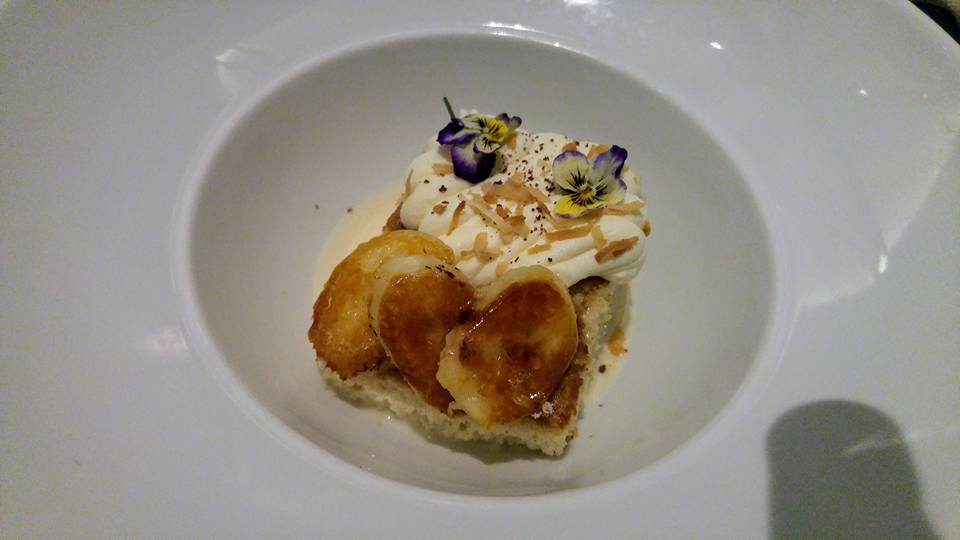 Finally we had finished a wonderful night of dining. What I really appreciate about Andiron is that even though it is a higher end restaurant, they aren't shy with the food. The portions are generous and there was no need to hit the drive in on the way home (like I did after going to a fancy Bellagio restaurant). When I want to go out in style, this is my type of place.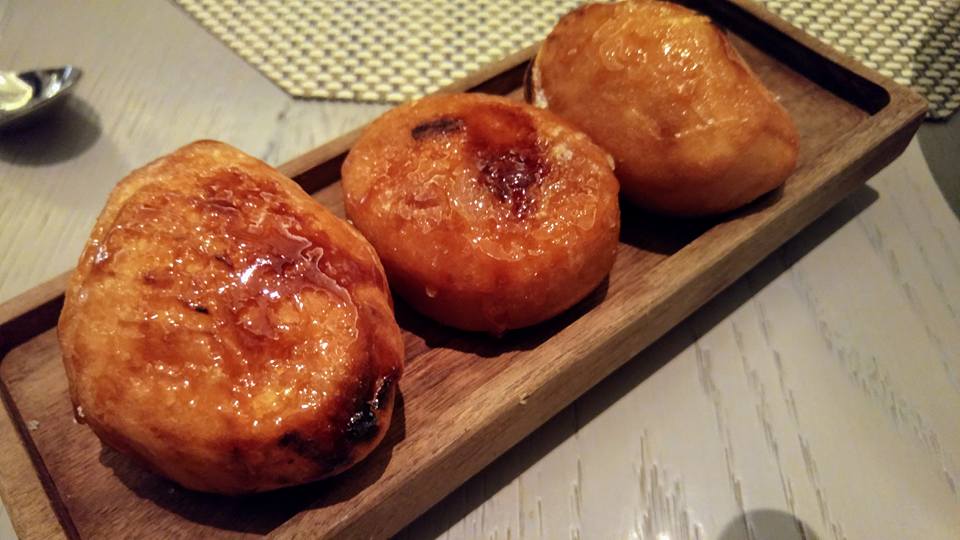 As we were ready to leave, we were fortunate enough to get to meet Chef Camacho, the man in charge of the kitchen. He told us a little about himself, as well as some of his personal style that he has put into the menu. He seemed very young to be in his position, but it was obvious he is up to the challenge. It is so nice to meet people from behind the scenes that are responsible for you having a great experience. It's also a great opportunity to tell them you appreciate their work.
I would like to thank all the people at Andiron for showing us such a great time. From the food runners and servers, all the way up to the chef and managers, everyone was welcoming and professional. I can't wait to get back and try out their brunch which sounds fantastic.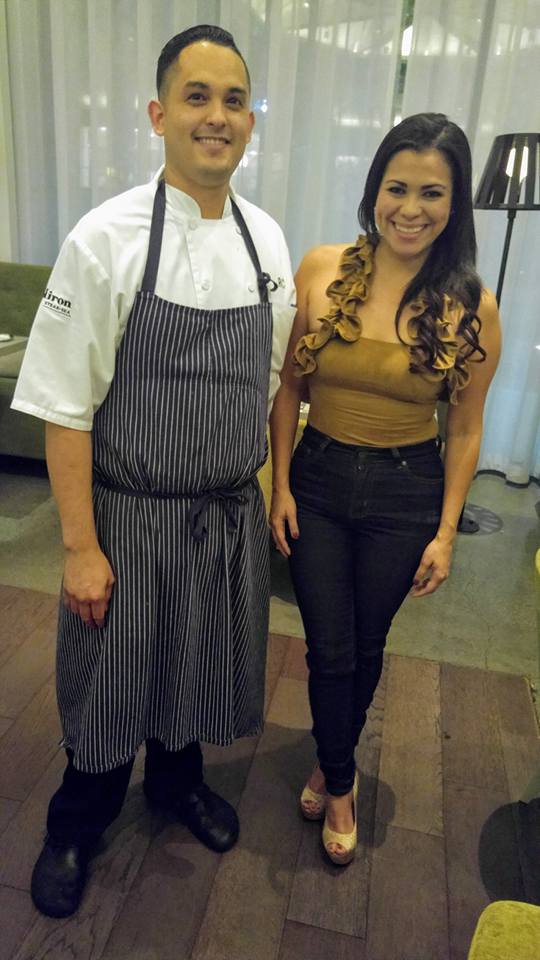 To see all of the great things they have going on, be sure to check out their website HERE, and make sure to stop by and see for yourself how great this place is.








by